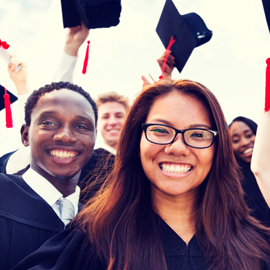 Written by Elese Chen, NCL Intern
Countless colleges offer enticing promises such as remarkably high job-placement rates, yet, too often new graduates fail to see these promises being fulfilled. Higher education institutions are now being held accountable for what may amount to fraudulent behavior by the "Borrower Defense to Repayment" law.After the collapse of the for-profit chain of Corinthian Colleges, more and more students are turning their attention to this regulation. Under the law, students who were found to have been defrauded by their schools are eligible for a discharge of their federal direct loans. Over 25,000 claims have been filed with the Department of Education since then, and most of them are from former Corinthian College students.
The current regulation is based on the renewal of the Higher Education Act by Congress, originally created in the early 1990s, which allowed student-loan borrowers to make a claim for "acts or omissions of an institution." The process of reviewing the growing number of claims has made it obvious that the current rule is too ambiguous. In an effort to update and strengthen the rule, the Department of Education has proposed new regulations to better protect students and taxpayers from fraudulent behavior by colleges found to be making fraudulent claims.
The draft proposal includes a process that would consolidate debt relief for groups of students who were defrauded. Institutions with poor loan outcomes would be required to warn prospective and current students by using clear, direct language. To prevent financially risky schools from escaping responsibility, the new proposal would deny schools the use of pre-dispute arbitration clauses and class action waivers.
A total of 58 advocacy organizations, including NCL, signed a letter to Education Secretary John King, expressing their support for stronger regulations. The following action items were suggested in the letter:
1)    Full loan relief for defrauded borrowers,
2)    Automatic loan relief when there is sufficient evidence of school wrongdoing,
3)    The federal standard for relief as a floor and not a ceiling; the latter process eliminates current borrower eligibility for relief.
In addition, the letter recommends tightening loopholes regarding the use of class action waivers to bar students in court, improving warnings to students regarding concerns about their school, and eliminating new time limits on borrower relief. The letter also recommends that decision-makers involved in borrower relief determinations remain independent.
NCL joined with colleagues in supporting this series of steps because we believe that stronger regulations are imperative to protect students from fraudulent activities and from claims rampant in the for-profit college world. We also want the process to be simpler and more transparent for eligible students seeking relief from fraudulent claims so that they can receive the loan discharges that they deserve.
https://nclnet.org/wp-content/uploads/2020/08/grads_icon.jpg
270
270
Melody Merin
https://nclnet.org/wp-content/uploads/2020/08/NCL-logo.png
Melody Merin
2016-08-08 16:22:00
2020-10-16 11:23:14
Borrower Defense to Repayment rule to protect students from fraudulent schools – National Consumers League