General Purpose Reloadable prepaid cards (GPR) are the fastest growing payment method in the country. They are increasingly popular with consumers who can't qualify for traditional credit or debit cards or for those who need a convenient way to help them stick to a budget, since the cards generally can't be overdrawn. While GPR cards have similar uses and even look nearly identical to credit or debit cards, consumers should know that there are important differences in terms of fees and consumer protections.
This guide is designed to help consumers learn what makes GPR cards different from other types of plastic cards, about the fees associated with the cards, and understand their rights under the law.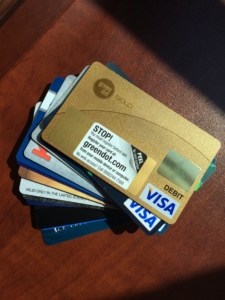 What is a GPR card?
General purpose reloadable prepaid cards (GPR cards) are much like the debit cards that many consumers use. However, they are not linked to a traditional checking account. Consumers can use them to purchase retail items at stores or online, pay bills online, get cash from ATMs, and have paychecks directly deposited onto them. GPR cards can be purchased from retailers like drug stores, grocery stores or check-cashing outlets, bank branches, and online.
What is the difference between a GPR card and a bank account debit card?

A bank account debit card is linked to your bank's checking account. GPR cards are not linked to a personal checking account.

Your bank account debit card may allow you to spend more than the amount that is in your account if you have opted in to an overdraft service. Prepaid debit cards do not let you spend more money than you have loaded on to a card.

What is the difference between a GPR card and a credit card?

When you use a GPR card, you are using your own money that you have already loaded on to the card. You can only spend as much money as you have pre-loaded.

When using a credit card, you are using borrowed money that you have to pay back at the end of each month (with interest, if you carry a balance). Credit card use is limited by the credit limit on the card.

What is the difference between a GPR card and a gift card?

GPR cards are reloadable, so when the money on the card is used up, you can add additional funds. Gift cards are often not reloadable.

GPR card users can withdraw cash from their cards at an ATM. Gift card holders cannot.

What is the difference between a GPR card and a payroll card?

A payroll card is an alternative to paper checks and to bank account direct deposits. Your employer can load your pay directly to a payroll card.

Payroll cards are provided by employers to their workers and are not typically marketed or purchasable by consumers. GPR cards are marketed to consumers and available for purchase by the general public.
For tips on how to protect the right GPR card for you, click here.
https://nclnet.org/wp-content/uploads/2020/08/NCL-logo.png
0
0
Melody Merin
https://nclnet.org/wp-content/uploads/2020/08/NCL-logo.png
Melody Merin
2020-06-29 12:40:06
2021-02-23 11:12:47
Consumer guide to general purpose reloadable cards – National Consumers League