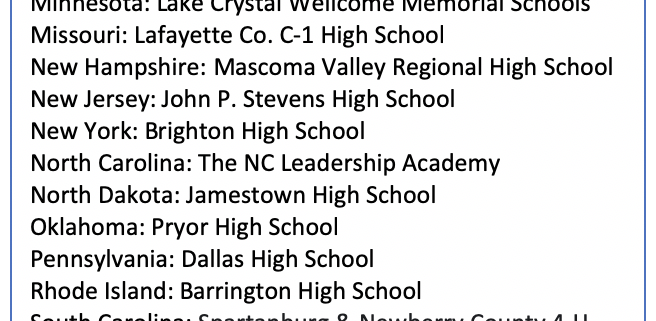 April 28, 2020
Student competitors best in states in national consumer literacy education / scholarship program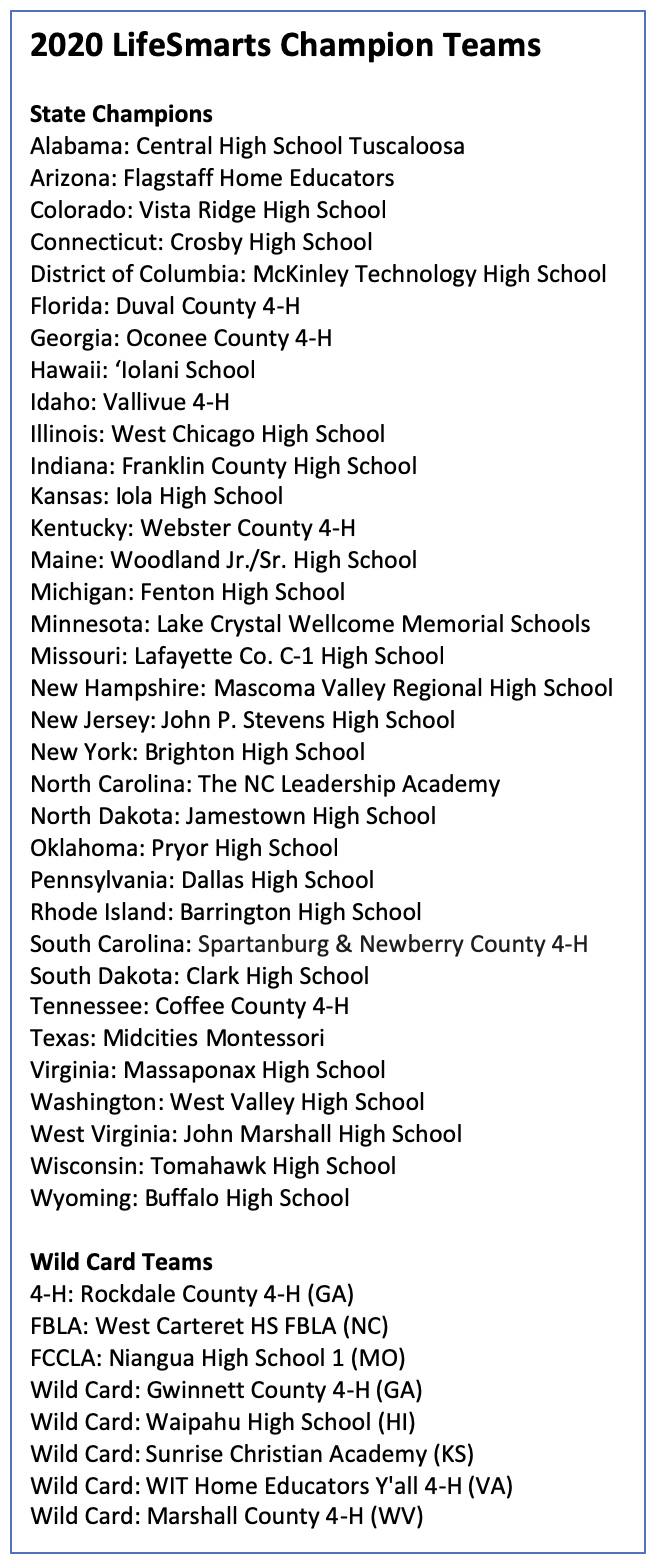 Contact: National Consumers League – Carol McKay, carolm@nclnet.org, (412) 945-3242 or Taun Sterling, tauns@nclnet.org, (202) 207-2832
Washington, DC—The National Consumers League (NCL) has announced the 2020 Champion student teams that took first place in their states' LifeSmarts 2019-2020 competitions and have earned a place at the next National LifeSmarts Championship. LifeSmarts, a consumer education competition that challenges teens in grades 9-12 about personal finance, health and safety, the environment, technology, and consumer rights and responsibilities, is a 26-year-old program sponsored by NCL.
Due to the coronavirus pandemic, the 2020 National LifeSmarts Championship was cancelled, but NCL is celebrating the teams of students who came in first in their states and would have competed for the 2020 national title. Due to the students' success this year, all state champion and special Wild Card teams have qualified to compete at the 2021 National LifeSmarts Championship, which will be held in Cincinnati April 17-20, 2021.
"We are so proud of these students from across the country, who beat out thousands of other teens in order to take their state titles," said LifeSmarts Program Director Lisa Hertzberg. "We look forward to coming together next spring to finish out the competition and determine the 2020 National Champion team."
LifeSmarts is an education and scholarship program run by the Washington, DC-based National Consumers League (NCL), the nation's oldest consumer advocacy organization. It competitively tests high school students' consumer and personal finance knowledge. LifeSmarts is available in all 50 states, the District of Columbia, and in partnership programs with student leadership programs FBLA, 4-H, and FCCLA.
Long-time Indiana-based coach Diane Slaven, an instructor from Franklin County High School, was named the 2020 LifeSmarts Coach of the Year. In the words of the students who nominated Slaven: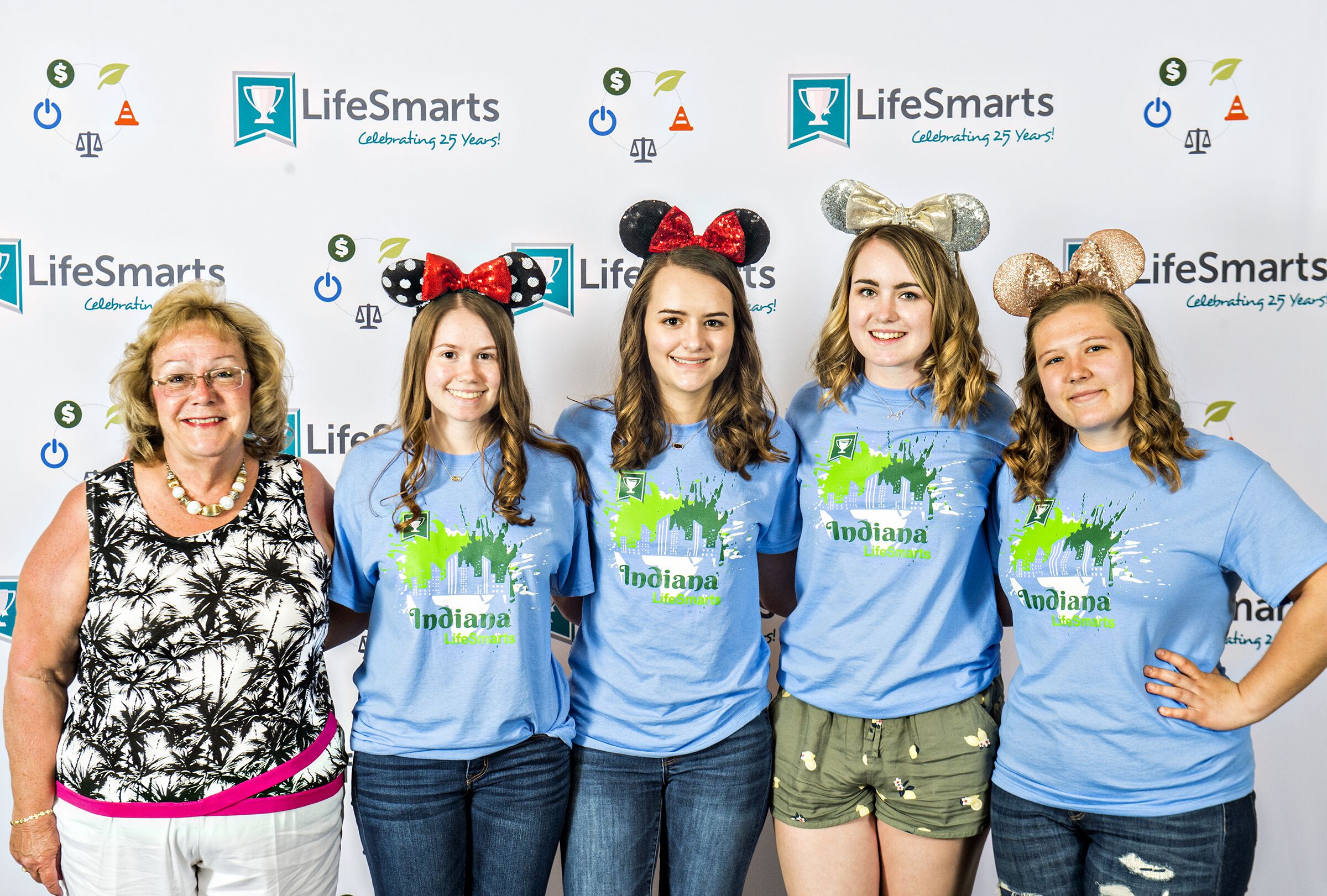 "Mrs. Slaven sees LifeSmarts as an organization that teaches students things that they will need in their lives, that they aren't necessarily exposed to in school. That is the reason why she is so invested and has given back to LifeSmarts as a coach for so many years. Mrs. Slaven is dedicated to the success of each student, not only in LifeSmarts but in our lives as well. Mrs. Slaven has led many teams to National Competitions throughout the years and has not failed to highly motivate and prepare each team. I think this says a lot about how caring and dedicated she is. She juggles the duties of LifeSmarts along with being department head of the business department. This year Mrs. Slaven is retiring, and is so deserving of this great honor due to everything she has given to us, and LifeSmarts throughout the years."
In the 26 years that LifeSmarts has been educating high school and middle school teens on consumer issues, it has grown dramatically, with more than 3 million consumer questions answered at LifeSmarts.org in the online competition during the 2019-2020 program year.
"NCL's LifeSmarts program is allowing us to rear a generation of consumer-savvy teenagers who often outsmart their parents on issues related to avoiding fraud, credit and debt, and complicated healthcare decisions," said NCL Executive Director Sally Greenberg.
To learn more about the program, contact NCL's Lisa Hertzberg at lisah@nclnet.org.
###
About LifeSmarts and the National Consumers League
LifeSmarts is a program of the National Consumers League. State coordinators run the programs on a volunteer basis. For more information, visit: www.lifesmarts.org, email lifesmarts@nclnet.org or call the National Consumers League's communications department at (202) 835-3323.
The National Consumers League, founded in 1899, is America's pioneer consumer organization. Our mission is to protect and promote social and economic justice for consumers and workers in the United States and abroad. For more information, visit www.nclnet.org.
https://nclnet.org/wp-content/uploads/2020/08/Screenshot_2020-04-28_14.51.15.png
1564
656
NCL staff
https://nclnet.org/wp-content/uploads/2020/08/NCL-logo.png
NCL staff
2020-04-28 17:00:00
2021-02-23 12:12:42
2020 Champion LifeSmarts student teams announced by National Consumers League