By Nailah John, Linda Golodner Food Safety and Nutrition Fellow

The food waste epidemic in America has increased with each generation. Food has become cheaper than ever and we throw out millions of tons of food, while 37.2 million Americans are food insecure, according to the United States Department of Agriculture (USDA).
The National Consumers League (NCL) has been an early leader in calling attention to this problem. In 2016, NCL and the Keystone Policy Center hosted a Food Waste Summit, which focused on Food Waste Landscape and how it impacts the consumer. The USDA estimates that we waste 30-40 percent of our food supply. In 2015, the USDA joined the U.S. Environment Protection Agency to set a goal to cut America's food waste by 50 percent by the year 2030.
NCL helped to launch Further with Food: Center for Food Loss and Waste Solutions in 2017. NCL, along with 12 organizations, joined this online hub to exchange information and solutions towards the national goal of cutting food waste. The initiative focuses on best practices for preventing food loss and waste; providing educational materials; research results and information on existing government, business, and community.
Sadly, during the pandemic, some farmers have resorted to dumping milk and plowing crops under because schools, restaurants, and universities that usually purchase large quantities of food are closed. Dana Gunders, executive Director of ReFED- Rethink Food Waste, recently noted that "people are throwing out less food in their homes, but more food is going to waste throughout the supply chain." Gunders was recently interviewed on NPR about COVID-19 and food waste.
Gunders offered a number of tips regarding food waste:
Consumers are making fewer trips to grocery stores during the pandemic, which makes it easy to adopt better practices that help reduce waste at home. Consumers are planning meals and thinking through what they want to eat and need to buy. Those who meal plan waste less food.
Households should do a better job storing food, which helps to reduce food waste. Putting items in correct packages, storing them properly, and freezing what you are not ready to use extends the life of many items. Fresh herbs and asparagus do great in a jar of water in the fridge, and avocados can be stored in the refrigerator once ripe. Fruit does best in a crisper drawer set to "low" or slightly cracked open.
"Use by" dates indicate the ideal time to consume the product, but as Dana says, "if you see the words 'best by' or 'best if used by,' those are foods you can eat well past the date as long as they look fine, taste fine, and smell fine."
Civil Eats, a daily news source for critical thought about the American food system with a focus on sustainable agriculture, also highlights recommendations for reducing food waste:
Revive older food. Soak wilting veggies in ice water to re-crisp them. Un-stale bread, crackers, tortilla chips by toasting them in the oven for 1-2 minutes
Instead of throwing away leftovers, think about using them in a new recipe. For example, use your over-ripe bananas to make a tasty banana muffin, banana fritters, or smoothies with milk, ice, or other fruit.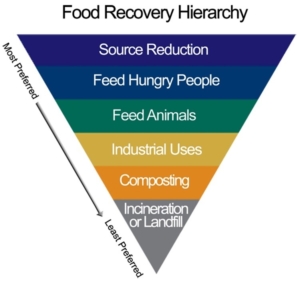 The USDA recommends consumers consider donating food they can't use to hunger relief organizations, shelters, etc. so that it can be used to feed people in need. And food that is inedible can be recycled into other products such as compost, worm castings, bioenergy, animal feed, bio plastics, and clothing.
USDA and EPA created the food recovery hierarchy (at right) to show the most effective ways to address food waste.
Food waste is always a challenge, but during Covid-19, we can employ some useful strategies. With so many Americans food insecure and people around the world facing dangerous food scarcity, it's incumbent on all of us to treasure the food our farmers grow, honor it, and use it to feed our families.
https://nclnet.org/wp-content/uploads/2020/08/NCL-logo.png
0
0
NCL staff
https://nclnet.org/wp-content/uploads/2020/08/NCL-logo.png
NCL staff
2020-07-13 06:43:22
2021-02-23 13:46:05
Tips to reduce food waste during the pandemic and beyond