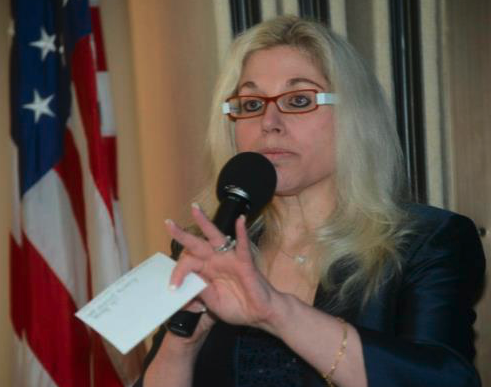 By Robin Strongin, Health Policy Director
July 12, 2023
My husband has advanced Lewy Body Dementia and one of the few things we can still enjoy together is listening to music. We used to curate playlists for all kinds of music. We even put together playlists to mark special occasions (like our daughter's wedding). Really, any topic became fair game for a playlist.
I was invited to speak at the Patients Rising Disrupting Healthcare Summit summer conference in Washington DC. My panel topic was Financing the Healthcare of Tomorrow. As I was preparing my presentation, I spoke with Michael Capaldi, Executive Director, the Institute for Gene Therapies. Mike is an expert on gene and cell therapies, and these therapies are definitely the healthcare of tomorrow, although thankfully, we are beginning to see the promise of these therapies today. When we talked about my presentation, he said, "you know, Robin, patients are really at a crossroads:  on the one hand, they are much more educated and empowered about their care, but some of the new therapies on the horizon are so complex, the cost and time commitments to innovate in these areas are so high, that groups like the National Consumers League [i]are in position to help patients and caregivers understand these complexities."
And that's when it hit me. A playlist. My colleague had me at Crossroads. If you're a fan of delta blues, like my husband and me, then you know Robert Johnson and his classic, Crossroads.  The rest of my remarks rounded out my Financing the Healthcare of Tomorrow Playlist: Tracks for Consumers and Policymakers, which include:
Crossroads (Robert Johnson)—Robert Johnson's haunting work reminds me of the difficult choices health policymakers have to make when it comes to healthcare financing—of course research and innovation are expensive—the diseases for which there are no cures, the conditions crying out for prevention, are complex and require decades of research, a deep understanding of basic science, and navigating an unpredictable regulatory path. Too many diseases and too few resources lead to heartbreaking trade-offs. Patients also have difficult choices to make when it comes to paying for their care. We shouldn't have to be making deals with the devil—as Robert Johnson sings about in Crossroads. Instead, we need to reframe the questions we ask, review how we prioritize funding streams, and think creatively about financing mechanisms. Rather than question if society spends too much on healthcare, we should be asking how can we spend it more efficiently? How do we adequately incentivize all involved in funding transformational innovation? How do we make sure patients can afford and access the treatment they need?
I Am Woman (Helen Redding)—it gets really old but here we are, still talking about, and working on, closing the gender gap—in raising capital for venture funding for women-lead innovation teams; and in awarding grants to women lead research teams. Did you know, that according to the NIH Database monitoring NIH grants, grants awarded to women lead teams in 2022 numbered 19,028 and in the same year men won 31, 560 NIH grants? Progress yes, but not good enough. Not even close. Why is this important?  Because the teams with funding ask the research questions. The more diverse the research teams, the broader the array of diseases that are studied. More cures for more people.
Your Cheatin' Heart (Hank Williams, Jr.)—I want to be careful and not paint all hospitals with the same brush but I would be remiss not to point out that too many hospitals are behaving badly: taking huge advantage of their nonprofit status, aggressively placing liens on patients who can't afford their care, engaging in abusive debt collection activities, and worse, denying care; manipulating the 340B program designed 30 years ago to enable true safety-net providers to help low-income and other vulnerable patients access more affordable medicines and healthcare services. Some entities participating in the 340B program have taken advantage of the program's current lack of clarity at the expense of the patients that the program is meant to serve.
Bad to the Bone (George Thorogood) – When it comes to taking advantage of our healthcare system, one major player in the drug pricing process might be considered "bad to the bone" – pharmacy benefit managers, or PBMs. PBMs continue to find ways to increase their profits while consumers are forced to pay high out-of-pocket costs for the prescription medicines they need. Although they were intended to help negotiate savings on medicines (which would be good), they are not passing along discounts to patients and are actually incentivized to steer patients to higher cost medicines – b-b-b-b-bad to the bone if you ask me!
Party Like It's 1999 (Prince)—Shakespeare asked, What's in a name? Fair question. Reminds me to also ask, what's in a definition and when is it time to update it? How we defined value, quality (as in value of care, quality of care) and other terms in 1999, needs to be reevaluated on an ongoing basis. New innovations, insights, and understandings necessitate we revisit how we define, measure, and update the terms and metrics used to make decisions that affect healthcare financing. A great example comes from another colleague[ii]  who has co-authored and published compelling work on a "paradigm shift in managing high blood pressure." He and his colleagues make the case that "Abandoning the view that hypertension is a disease in favor of regarding it as a cause of a disease and hence, adopting a population-based preventive approach would encourage the development of simpler guidelines." Refreshed decades old thinking that could yield the elusive results the status quo has not achieved seems worthy of a party, like its 2023.
I Will Survive (Gloria Gaynor) and Stayin' Alive (The Bee Gees)—Really, isn't this what we are all trying to do?
A Change Is Gonna Come (Sam Cooke)—for patients like my husband, for our family, and for all the other patients and caregivers, change cannot come soon enough.  I pledge to do everything possible to advocate for meaningful change and help Patients Rising.
[i] I direct health policy for National Consumers League
[ii] Wald, Nicholas J., Wald, David S., Kellermann, Arthur L., "When Guidelines Cause Hypertension," Commentary, The American Journal of Medicine, 2018, pp. 1402-4.
https://nclnet.org/wp-content/uploads/2023/01/Screen-Shot-2023-01-10-at-12.16.19-PM.png
387
491
Katie Brown
https://nclnet.org/wp-content/uploads/2020/08/NCL-logo.png
Katie Brown
2023-07-12 15:26:18
2023-07-13 03:53:01
Financing the healthcare of tomorrow playlist: Tracks for consumers and policymakers