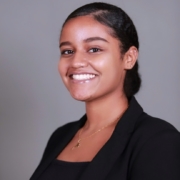 By NCL Health Policy Associate Milena Berhane
Technology has brought into the homes of millions of consumers many wonderful tools for accessing the drugs and medical products we need. We, as consumers — at the touch of a few buttons — have access to drugs and devices that would have required far more time and effort to acquire in the past. But with that ease of access, we also have millions of tainted or suspect products peddled to consumers, including counterfeit drugs.
At any one time, there are 35,000 active pharmacies online, according to ASOP Global. Ninety-five percent of them do not comply with applicable laws and pharmacy standards. Counterfeit products sold by this 95 percent are manufactured in often unsafe conditions and contain little or no active ingredients.
Those in charge of online registries could better control this. These registries control the websites that can be set up on the Internet, managing domain name extensions such as .com, .gov, and .org, and .pharmacy. It is critical that Internet registries and registrars monitor the activity on their domains and ensure that illegal activity is prevented.
Consumers look for drugs online for both cost and convenience reasons. It's understandable that consumers are turning to the Internet for cheaper options when the cost of many prescription drug costs is so high. Those who do undoubtedly don't understand the risk of illegal online pharmacies; research shows only an estimated 37 percent see little danger in ordering from such a pharmacy. In addition, 7 in 10 Americans incorrectly believe that appearing at or near the top of Internet search results legitimizes such a website.
The COVID-19 pandemic has also played a role in these risks, with an increased sale of online goods, including prescription drugs. About 31 percent of consumers who bought prescription medication online did so for the first time in 2020 because of the pandemic. As a result, now more than ever, we need to ensure that illegitimate online pharmacies are far better regulated, and frankly, put out of business.
The examples are stark. In 2021, the Drug Enforcement Administration (DEA) seized more than 9.5 million counterfeit pills, which is more than what was seized in 2020 and 2019 combined. Due to these high numbers, in late 2021, the DEA warned that "fake prescription pills are widely accessible and often sold on social media and e-commerce platforms — making them available to anyone with a smartphone, including minors."
We believe that online platforms have the responsibility to enforce their terms and conditions. These registries and registrars are choosing profit over safety by allowing online pharmacies to sell fake drugs and products.
For this reason, the National Consumers League is supporting the DRUGS Act (H.R. 6352/S.3399) which aims to holds Internet registries and registrars responsible for any illegal and illegitimate drugs being sold through their online platforms. Modeled after a pilot "trusted notifier" program, this bill would require registries to suspend a website, conduct an investigation, and then shut the platform down if it is found to be selling illegal substances.
In the meantime, NCL will continue to educate consumers about the dangers of counterfeit drugs. NCL's FakeRx Action Center provides consumers with the tools to protect themselves from fake drugs and illegal online pharmacies — as well as a place to report counterfeits. Consumers have a duty to do their homework, but we have to make it far harder for fakes and counterfeits to be peddled to unwitting consumers. The DRUGS Act will go a long way to make that a reality.
https://nclnet.org/wp-content/uploads/2022/02/Milenas-headshot-180x180-2.jpeg
180
180
Melody Merin
https://nclnet.org/wp-content/uploads/2020/08/NCL-logo.png
Melody Merin
2022-02-03 21:24:28
2022-02-03 21:26:06
Illicit drugs and the digital marketplace