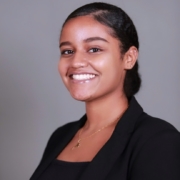 By NCL Health Policy Associate Milena Berhane
A lack of diversity in the health care workforce has been a persistent issue in the United States, posing significant implications to health equity, particularly for the Black or African American community.
An estimated five percent of physicians identify as Black, despite making up 13 percent of the U.S. population. A recent study utilizing U.S. Census Bureau information found that the proportion of Black physicians in the United States has only increased by four percent in more than a century — from 1900-2018. This study also reported that the percent of Black male physicians has remained relatively stagnant since 1940. Diversity issues also exist in other health care professions, with an estimated 7.8 percent of nurses, 3.8 percent of dentists, and 2.5 percent of physical therapists being Black.
The education, testing, application, and interviewing process required to pursue a career in health care is rigorous and costly. In addition to a four-year degree, candidates are also required to take standardized exams, pay expensive application fees, and pay for travel to interview. Most medical students expect to spend up to $10,000 for the application process. Once accepted to a health professional program, the tremendous monetary and time costs of schooling are immense obstacles for many. Medical school attendees accumulate an average $200,000 of student loans by the time they are finished with their programs.
Due to generations of systemic racism in our country, Black Americans are less resourced — financially and in terms of social capital — than their white counterparts. The rigorous process of applying to and remaining in health professional programs creates a pipeline that excludes disadvantaged students from the ability to pursue careers in clinical care.
The barriers to enter the workforce have further negative impact on communities and health equity. Black patients face a variety of issues that can influence their ability to access medical care, including medical mistrust caused by historical unethical medical mistreatment faced by Black Americans, dismissal of health concerns that Black patients express to health care providers, and others. Time and time again, Black patients have shared their experiences of medical providers ignoring their health concerns, and therefore being undertreated and going undiagnosed for their conditions. In addition, research indicates that Black patients report poorer patient-provider communication and shared decision-making. These issues lead to Black patients receiving lower quality care from medical providers, further worsening health conditions that could be treated.
Racial bias and a lack of culturally competent medical care in the healthcare system has led to poorer health outcomes for Black patients. Black Americans of all ages already face higher rates of hypertension, asthma, diabetes, and other health issues due to systemic racism and how it has affected the environments they live in, the food they have access to, their education prospects, income, etc. These inequities compiled with a culturally incompetent and bias medical system leaves Black Americans with little ability to receive proper medical treatment and improve their health and well-being. Although medical schools are attempting to teach the importance of culturally competent care, it is crucial that Black patients are also able to access healthcare providers that look like them and come from their communities.
Clearly, the current make up of racial diversity of the health care workforce has failed to keep up with the demographic shifts in the United States. Although public health efforts are important in addressing and improving health equity, inequities within the medical system must be addressed simultaneously. The COVID-19 pandemic has only highlighted and exacerbated health inequities. Increasing the amount of Black health professionals across the United States is a critical step in ensuring better health outcomes for Black patients and their overall well-being.
https://nclnet.org/wp-content/uploads/2022/02/Milenas-headshot-180x180-2.jpeg
180
180
Katie Brown
https://nclnet.org/wp-content/uploads/2020/08/NCL-logo.png
Katie Brown
2022-02-10 20:39:28
2022-02-10 20:41:28
Why we need more Black health professionals in the workforce