AARP
Recently AARP has been testifying before Congress and speaking out in other ways about prescription drug prices. We've encouraged AARP members to learn more about candidates' positions on prescription drug pricing in advance of the 2018 elections, and we will soon be releasing new Rx Price Watch reports. In addition, we've just released the 2018 edition of Across the States: Profiles of Long-Term Services and Supports, which provides comparable state data, rankings, and national averages on a range of LTSS indicators.
Alliance for Aging Research
On July 24, 2018 the nation's leading heart disease patient advocates announced the launch of the Heart Valve Disease Policy Task Force, a coalition of non-profit organizations uniting for a common voice in support of improved access, research, and awareness on heart valve disease detection and treatment. The Task Force will work with patients, medical providers, and key policymakers to focus attention on national policy issues affecting the diagnosis and treatment of heart valve disease.
The first issue that the Task Force is engaging in is the Centers for Medicare and Medicaid Services (CMS) National Coverage Determination of a minimally-invasive valve disease treatment called transcatheter aortic valve replacement (TAVR). CMS announced recently its plans to reevaluate if, and under what circumstances, it will pay for TAVR. The biggest debate regarding this coverage decision is whether the government should continue to require a minimum number of annual surgical and interventional cardiac procedures for a hospital to maintain a TAVR program. Learn more about the launch and the activities of the Task Force.
AMAG Pharmaceuticals
AMAG President and CEO Bill Heiden will chair the 2019 Boston March for Babies, which will take place Saturday, May 11 in Boston. The Boston walk is expected to raise $800,000, placing it among the five largest March of Dimes walks in the country.  As chair of the Executive Leadership Team, Bill will be leading a group of a dozen Boston-area executives to raise funds and awareness of the walk. AMAG is the event's presenting sponsor for the third consecutive year, with employees raising nearly $75,000 to support MoD.
America's Health Insurance Plans
Across the country, America's Health Insurance Plans (AHIP) is educating consumers and policymakers on the innovations in health insurance today. The "Better Care" initiative highlights the value and innovation stories about how health insurers are helping to bring about the best possible care and health for consumers. Oftentimes, challenges in transportation, language, and social barriers stand in the way of patients receiving optimal care; this initiative seeks to build awareness about the changing role of insurers across the country in improving and expanding access to health. This year, AHIP has engaged in "Better Care" campaigns in eight states, with activities including media interviews and op-eds, digital testimonial sharing, policymaker education and "Value Forums" – all showcasing insurer innovation in areas such as telehealth, preventive care, senior health, mental health, women's health, combatting the opioid epidemic, and Medicare Advantage.
American Medical Women's Association
The American Medical Women's Association (AMWA) has launched a campaign to educate physicians about the rise of counterfeit drug use. This initiative was motivated in large part by the recent NCL Health Advisory Council meeting and the fact that many physicians are not aware of the widespread use of online pharmacies, which are usually unlicensed and unregulated. 
American Society of Health-System Pharmacists
The American Society of Health-System Pharmacists (ASHP), in collaboration with the American Society of Anesthesiologists, American Hospital Association, American Society of Clinical Oncology, and the Institute for Safe Medication Practices, convened the "Summit on Drug Shortages as a Matter of National Security: Improving the Resilience of the Nation's Critical Healthcare Infrastructure" on September 20, 2018. The meeting examined drug shortages and their impact on national security and the healthcare infrastructure, including discussion of the vulnerabilities of the supply chain and foreign dependence on pharmaceutical ingredients, disaster planning and response, and evaluation of risk factors associated with pharmaceutical manufacturing and distribution. The day-long meeting included perspectives from both public and private stakeholders, and resulted in solutions-oriented recommendations and best practices to ensure supply chain security and continuity in the event of a disaster or attack. Meeting attendees included clinician groups such as the American Medical Association, nursing, emergency room physicians, and others, as well as industry and supply chain representatives, and members of the public sector including FDA, CDC, HHS, DoD and the VA. For additional information on drug shortages and other critical issues impacting the practice of pharmacy, ASHP invites you to attend its Midyear Clinical Meeting in Anaheim, California on December 2 – 6, 2018.
Association for Accessible Medicines 
On September 4th, the Food and Drug Administration (FDA) held a public hearing on "Facilitating Competition and Innovation in the Biological Products Marketplace". Association for Accessible Medicines (AAM) Senior Vice President of Policy & Strategic Alliances and Executive Director of AAM's Biosimilars Council Christine Simmon used the opportunity to call on FDA to support key federal agencies and Congress around measures that will facilitate biosimilars competition. She noted that FDA approval is not enough on its own to unlock the cost-savings potential of biosimilar medicines. A fully mature biosimilars market will require the FDA to work alongside agencies like the Centers for Medicare and Medicaid Services (CMS), the U.S. Trade Representative (USTR), and the Patent and Trademark Office (PTO). Under those agencies' jurisdictions fall a host of barriers, which are frustrating continued biosimilar development.
Following the FDA meeting, from September 5 to 7, AAM and the Council held the first GRx+Biosims Conference, a first-of-its-kind combined conference that united stakeholders to hear directly from government officials, learn best practices, and connect with peers in the generics and biosimilars industry. The three-day event was a resounding success with over 500 attendees. Several highlights came at the top of the conference with remarks from CMS Administrator Seema Verma as well as Dan Best, Senior Advisor to the Secretary for Drug Pricing Reform and John O'Brien, Advisor to the Secretary & Deputy Assistant Secretary (Health Policy), of the Department of Health and Human Services (HHS), who all expressed the Administration's strong support for continued growth of generics and biosimilars and their commitment to lowering costs for patients. 
BeMedWise Program at NeedyMeds 
With the NCPIE – NeedyMeds transition completed, the BeMedWise program is finalizing the framework for the new BeMedWise Council. In the coming weeks, we will be inviting our former NCPIE members and stakeholders to participate. The BeMedWise Council partners will work collaboratively to identify and develop highly-relevant BeMedWise programs that support the BeMedWise program's mission to promote the wise use of medicines through trusted communication for better health.  
Upcoming BeMedWise Council engagement opportunities include the 33rd annual "Talk About Your Medicine's" Month (TAYMM) in October. Our 2018 TAYMM theme is –Taking Action to Prevent Opioid Misuse and Abuse and we will be sending the comprehensive communications toolkit to our partners and stakeholders in the next few weeks. To kick off TAYMM, NeedyMeds will host a webinar on Opioid Safety on October 4, 2018 @ 1:30 PM Eastern Time – Learn more and Register here. Also new this year will be a dedicated "Talk About Your Medicines Month" website which will feature our customary tips/downloads, resources, past observances, and more.   
Black Women's Health Imperative
The Black Women's Health Imperative (BWHI) advances and promotes Black women's health through five priority areas: wellness, HIV prevention, reproductive justice, research translation, and policy and advocacy. BWHI is leading efforts on these critical issues with the inaugural release of Black Women Vote: The 2018 National Health Policy Agenda.
The Agenda was created to help inform policymakers and other stakeholders on the critical health policy issues that impact the well-being of Black women. Most importantly, this Health Policy Agenda provides an opportunity for Black women voters to engage in policy discussions to ensure that key health policy issues impacting Black women are taken into account in the political process. Less than 2 months away from the midterm elections, BWHI will debut the agenda on Friday, September 14, 2018, at the Congressional Black Caucus Foundation Health Braintrust: Truth and Reconciliation in Health. It will be available to the public on the same day. The agenda will also include a two-page, fill-in report card for voters to assess potential candidates' policy positions. 
BWHI is also shaping and supporting legislation to improve maternal health outcomes for Black women. BWHI recently endorsed Sen. Cory Booker's bill — the Maximizing Outcomes for Moms through Medicaid Improvement and Enhancement of Services (MOMMIES) Act; Sen. Kamala Harris' bill — the Maternal Care Access and Reducing Emergencies (CARE) Act; Rep. Robin Kelly's bill — the Mothers and Offspring Mortality & Morbidity Awareness (MOMMA) Act, and its Senate companion.
If you or your organization are interested in learning more information about the agenda or upcoming legislation, please email tboyd@bwhi.org.
Council for Affordable Health Coverage 
The Council for Affordable Health Coverage (CAHC) and brokerage firm Willis Towers Watson released a new whitepaper depicting how rising health care costs have diminished American workers' take-home pay, concentrating income among the wealthiest Americans. The report explains that, while total compensation has risen steadily since 1980, health benefits have taken up an ever-increasing piece of the pie for low and middle-income earners with little to show for it. Washington Post columnist Robert Samuelson summed up the report's findings succinctly: "For the bottom 60 percent of U.S. workers, wage gains have been completely wiped out by contributions for employer-provided health insurance."
CAHC President Joel White called the report, "A stinging indictment on our health care system — one that's eroding hardworking Americans' wages, exacerbating income inequality and offering too little value in return" adding, "this analysis will fuel our coalition's continued work to protect employer health coverage. We must foster competitive, transparent markets that align incentives to place consumers at the center of a value-based care system." The full report and executive summary, also cited by Axios, can be found at CAHC.net.
FDA Office of Women's Health
9/27 – 9/28 Scientific Conference: Opioid and Nicotine Use, Dependence, and Recovery: Influences of Sex and Gender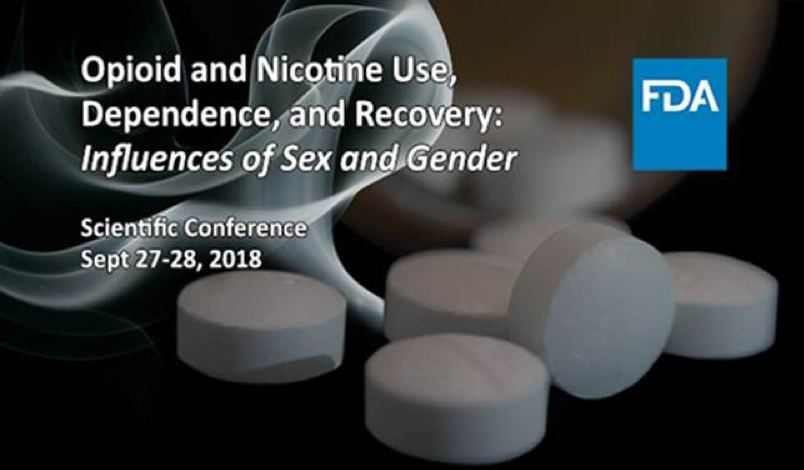 Join the FDA Office of Women's Health, in collaboration with the Center for Drug Evaluation and Research and Center for Tobacco Products, for a conference on Opioid and Nicotine Use, Dependence, and Recovery: Influences of Sex and Gender. The conference will include presentations by experts in the field of opioid and tobacco research, professional education, and clinical care on the biological (sex) and sociological (gender) influences on use, misuse, and recovery. This public meeting will be held on September 27 and 28, 2018, 8:30 AM – 4:00 PM, FDA White Oak Campus, Silver Spring, MD. Click here to register for the webcast. For more information about the conference and to view the agenda, visit https://www.fda.gov/ForConsumers/ByAudience/ForWomen/ucm610847.htm.
OWH 2018 Research Grants 
The FDA Office of Women's Health (OWH) promotes and conducts research initiatives that facilitate FDA regulatory decision-making and advance the understanding of sex differences and health conditions unique to women. OWH awards research grants to address regulatory research questions related to women's health issues and the impact of sex differences on product safety and efficacy. View 2018 research grants awarded by OWH.
Healthcare Distribution Alliance and Allied Against Opioid Abuse
Allied Against Opioid Abuse (AAOA) has had a busy summer, hosting roundtables and events across the country to draw attention to the rights, risks, and responsibilities associated with prescription opioids. Recently, AAOA joined the Minnesota Twins and the Hennepin County Sheriff Office's #NOverdose campaign to raise awareness about the opioid abuse epidemic at a baseball game against the Cleveland Indians. During the game, AAOA debuted its new video, focused on promoting the safe storage and disposal of prescription medicines.
Later this month, AAOA will be releasing a suite of resources specific to the pharmacy community. The Pharmacy Toolkit has been developed in collaboration with the National Community Pharmacists Association (NCPA) and the National Alliance of State Pharmacy Associations (NASPA), and will include materials to help pharmacists engage with and educate their patients. For more information on AAOA activities or to get involved with the organization, please contact Lee Lynch (llynch@reservoircg.com).
The Healthcare Distribution Alliance is the founding member of Allied Against Opioid Abuse.
HealthyWomen 
HealthyWomen released the WomenTALK® 2018 survey September 10 highlighting mounting barriers women face related to affordable, accessible health care. At a Capitol Hill briefing September 13 hosted by HealthyWomen, panelists addressed insights gained from interviews with more than 1,000 women. Highlights included new evidence indicating that women now pay higher monthly premiums for their health insurance, yet confront mounting obstacles to getting the treatments their health care professionals prescribe. The briefing covered diseases, such as opioid use disorder, for which women may unknowingly face major insurance coverage gaps, and opportunities for expanding the preventive care lens to include brain health as a touchpoint. Panelists were: Beth Battaglino, RN, CEO, HealthyWomen; Stacey Worthy, JD, Policy Advisor, HealthyWomen; Carol McDaid, Principal, Capitol Decisions; and Jill Lesser, President, WomenAgainstAlzheimer's. View the WomenTALK 2018 survey here. 
Monica Mallampalli, PhD, Advisor, Strategic Development and Stakeholder Engagement, HealthyWomen, participated in the 23rd Annual HeLa Women's Health Symposium, "Birthing Babies—A Solution Symposium Around the Crisis of African-Amercian Maternal and Infant Mortality on September 28, 2018 in Atlanta. The symposium was sponsored by Morehouse School of Medicine and the March of Dimes.
National Alliance for Caregiving
The National Alliance for Caregiving recently released a new report, "Moving Forward on Behalf of Family Caregivers in the U.S.: Designing a Public-Private Fund to Support Research and Innovation." The nation has begun to recognize the essential role that unpaid friends and family members play in supporting individuals with ongoing health and assistance needs. Yet these informal support systems are not sufficient to support the many Americans with care needs. Policymakers need pathways that will encourage businesses, entrepreneurs, think tanks, and incubators to find sustainable marketplace solutions to support and augment the support provided by family caregivers across the lifespan.
With a grant from the Robert Wood Johnson Foundation, the National Alliance for Caregiving was honored to host a one-day summit on Public-Private Innovation in Family Caregiving on April 24, 2018. The new report captures the multi-stakeholder input of that summit and offers a roadmap for next steps.
National Association of Nurse Practitioners in Women's Health 
The National Association of Nurse Practitioners in Women's Health (NPWH) is busy gearing up for its 21st Annual Premier Women's Healthcare Conference, being held October 10-13 in San Antonio, Texas. We anticipate attendance from almost 700 WHNPs and others interested in women's health! We are also in the process of launching our Patient Portal this fall. Finally, the next meeting of our Healthy at Any Age Coalition will be held on November 8 in Washington, DC. If you would like to attend, email info@npwh.org. 
National Partnership for Women and Families
Survey Report – Listening to Mothers in California

The National Partnership for Women & Families released Listening to Mothers in California, a statewide population-based survey of women who gave birth in 2016. It is the first state-level fielding of the national Listening to Mothers survey and the first Listening to Mothers survey available in both English and Spanish. The new survey highlights the voices of women themselves and focuses on important topics such as bias and discrimination in health care, disparities faced by women of color, maternal mental health, current maternity care practices, and more. The full survey report is available here. Read issue briefs on the experiences of women of color at http://www.nationalpartnership.org/issues/health/listening-to-mothers-ca/more-resources.html
Fact Sheet – Women's Health Coverage: Stalled Progress
New data released this month by the U.S. Census Bureau reveal that we still have much progress to make around providing health insurance to women and families, according to analysis by the National Partnership for Women & Families. The data show that 88.9 percent of adult women (ages 18-64) now have health insurance coverage versus 89.4 percent in 2017. Additionally, large and shameful disparities persist in access to health insurance. National Partnership analyses show that women of color are more likely to be uninsured.
USP 
General Chapter <797> Pharmaceutical Compounding ‒ Sterile Preparations is now open for public comment until November 30, 2018. To provide a unified approach to quality compounding, USP intends to align the timing and content of General Chapters <795>, <797>, and <800> Hazardous Drugs—Handling in Healthcare Settings. Among other proposed content in the revisions, hazardous drug handling sections in <795> and <797> will reference General Chapter <800>. The Intended Official Date for Chapters <795>,<797>, and <800> is December 1, 2019.
https://nclnet.org/wp-content/uploads/2020/08/NCL-logo.png
0
0
https://nclnet.org/wp-content/uploads/2020/08/NCL-logo.png
2018-09-24 16:15:29
2020-12-23 12:45:54
Health Advisory Council Member Updates | Q3 2018