By Guest Blogger April Verrett, President of SEIU 2015
…for my COVID shot. I was tired of feeling like the virus was winning. I was sick and tired of feeling at the mercy of the whims of this unrelenting, mutating disease. I was angry that this pandemic was beating the hell out of us. So despite any fears and reservations I had about a new vaccine, I was ready to fight. And I wanted to lead by example and show that the vaccine was safe, effective, and the best way to fight against COVID-19.
That shot was more than just a way to protect myself. Like so many have noted, wearing masks and getting vaccinated are comparable to the solidarity and community spirit our grandparents and great grandparents displayed during WWII, where the nation united and everyone did their part. That's why our Union members referenced the iconic WWII "Rosie the Riveter" image when they launched their "We Can Do It!" vaccination campaign earlier this year. Our Union helped tens of thousands of our long-term care providers, their families, and their vulnerable clients access vaccinations across the state.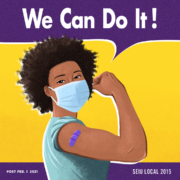 I was so relieved months earlier when the vaccine became available to essential workers in California. The more than 400,000 long-term care providers I represent every day—primarily women of color—were among the first in line. Often, their communities were the hardest hit by the pandemic. Black and brown neighborhoods throughout the state consistently suffered the highest illness and death rates.
COVID took deadly aim at our members and their elderly, sick and disabled clients. They lost many of the fragile people they cared for while they themselves struggled on the terrifying font lines of the war against COVID, often without the PPE to protect themselves. These caregivers suffer lingering trauma from seeing the ravages up close in nursing homes and private homes up and down the state. Like my sister Christine, a nurse assistant at a nursing home in Bakersfield, where they lost 19 of their patients and more than a hundred of her colleagues fell ill with COVID. It breaks my heart that this is not a unique example. I heard story after story like Christine's.
There's one thing that slowed this devastation and protected our members and the vulnerable people they care for: vaccination. Our members see firsthand that it's the best weapon available to rein in this pandemic, protect against infection and hopefully slow the development of dangerous variants. It's simple: where vaccination rates are higher, rates of infection, hospitalization and death are lower. Counties across the nation again experiencing at-capacity hospitals are, sadly, the counties that have resisted the vaccine.
I've never seen as much misinformation thrown at our members and our communities as I've seen around COVID vaccines. So, we recently started a follow-up 'We Can Do It!' effort to dispel the dangerous—life-threatening, really—myths about vaccination.
This summer, as employers and local and state governments began to look at ways to urge more vaccination, SEIU 2015 member leaders formed a working group to ensure that Union members would have a voice in any policy, including vaccine mandates. This group developed a set of principles to guide employers and partners in our state's continued vaccine rollout, such as making sure the vaccine is readily available and accessible, that sick days are provided for the frequent resulting flu-like symptoms and that it's carefully scheduled to avoid staffing shortages. Days after outlining this guidance, our Governor mandated all healthcare workers to get vaccinated. Our members overwhelmingly support vaccination, but they also want to ensure that it's accomplished thoughtfully and respectfully for our members who remained concerned.
We can do it. Together, we will defeat COVID-19.
April Verrett is President of SEIU 2015, the largest union in California, representing more than 400,000 long-term care providers (home care, skilled nursing facility, and assisted living center workers) throughout the state. Its members are as diverse as the state's population, but united in their commitment to caring for California's most vulnerable: seniors and the disabled. In October, Verrett will receive an award from NCL named for our first Executive Secretary Florence Kelley. To learn more about the evening of awards, click here. 
https://nclnet.org/wp-content/uploads/2021/08/April-Verrett-scaled.jpg
2560
1707
Melody Merin
https://nclnet.org/wp-content/uploads/2020/08/NCL-logo.png
Melody Merin
2021-08-16 13:50:16
2021-08-16 13:51:34
Earlier this year, I rolled up my sleeve…