By Nissa Shaffi, NCL Associate Director of Health Policy, featuring an interview with Jens Dakin, Managing Director of AM LLC
After months of vaccine review and approval informing an arduous national vaccination campaign, nearly half of the country has been fully vaccinated against COVID-19. However, despite these efforts, we've narrowly missed the national goal of 70 percent of Americans receiving at least one dose by July 4. Even though there is overwhelming evidence in support of the COVID-19 vaccines and their safety, vaccine hesitancy still looms.
On July 8, the NCL health team met with Jens Dakin, Managing Director of Strategic Engagement at AM LLC. AM LLC is a health and research informatics firm that provides public health related, mission critical services in information, communications, and technology to federal, state, and local government clients. Since March 2020, AM has partnered with government agencies to control, isolate, and mitigate the spread of COVID-19 through various community engagement and vaccine quality assurance measures. Below is a snapshot of our conversation.
Nissa: For over 120 years, the National Consumers League has advocated for consumer protections in health care. A big part of our work involves fostering vaccine confidence. We do this through direct consumer engagement, testifying before federal vaccine committees, like the CDC and FDA, and our Script Your Future campaign, where we engage with pharmacy students to increase vaccine uptake. We would love it if you could tell us a little about AM Trace work in vaccine confidence.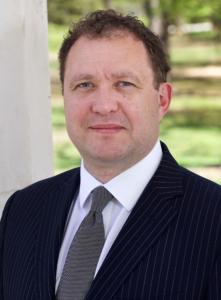 Jens: Thank you, and nice to meet you both. AM was founded about 10 years ago to provide services to the federal government in research, communications, and healthcare IT. When COVID-19 spread to the US there was a lot of effort by the federal and state governments to keep people safe with COVID-19 threat mitigation, and then to get people to take the vaccine. AM now provides capabilities in five critical services to state and local governments, including staffing and training of public health personnel, technology support infrastructure, public awareness outreach campaigns, stakeholder collaboration. We work with key public servants to help increase capacity pertaining to COVID operations.
Spencer: When you first enter a community, how do you get your foot in the door and begin to understand the specific needs of the community so you can begin to build your campaign strategy?
JD: Ultimately, we don't like to enter a community cold. We undertake lots of research before hitting the ground to understand the demographics and the local context. It is important for us that our local partners know the area, the people and have the access we need. Whether it's an African American community, or a White, rural Republican-leaning county, we can make some educated guesses, but we certainly cannot make assumptions about the individuals without the local data and insight. This initial research frames how we empathize and engage with the community, allowing us to develop more credible messages that will resonate better. We don't tend to advocate mass media campaigns, especially now when there is a need to persuade the vaccine holdouts, because the mass campaigns haven't worked with them.
NS: On mass vaccination campaigns, I recently came into contact with an old friend that has become increasingly anti-vaccine and cited vaccine lotteries and giveaways as suspect. Do you think that these mass efforts are causing more harm than good?
JD: I believe that they have achieved what they set out to do. They have worked to an extent, to get the people who want to be vaccinated, vaccinated. Unfortunately, there is now considerable distrust in government authority in our society – much of it caused by the spread of misinformation and disinformation. Your friend views her belief as completely rational based on the information she has. For the vaccine holdouts, the message needs to come from a trusted voice and delivered in a non-intrusive way. What we are seeing working in some cases is developing a series of different "micro-interventions", in the form face-to-face conversations, a series of emails or chats on a group message board. We can even learn lessons from deradicalization programs that have helped to sway people away from the path towards terrorism, where we listen, understand, and engage with empathy.
NS: I really like the idea of "micro-interventions". Is there a designated period of time you allow yourself in a particular community to test these messages and strategies to see if they land before moving on from that group?
JD: We have to test and adjust all the time. This is an evolving situation. You really just need to remember that when you convince someone to get vaccinated, you're potentially saving their life. If you keep building that relationship with the community, that can end up going a long way. This is why it's so important that our local messengers, or canvassers, are all from the communities we are engaging within.
NS: Could you provide some examples of success stories as a result of these interventions?
JD: In NYC, AM's teams have spoken with over 180,000 residents and as a direct result of our personalized messaging campaigns and direct engagement within [mainly minority] communities, encouraged over 50,000 people to book vaccination appointments. In Anchorage AK, AM's teams identified, contacted, and built relationships with individuals living in both urban and rural communities with the goal of addressing vaccine hesitancy and booking vaccination appointments. During a single 6-week span of all the unvaccinated people they spoke with, they arranged for nearly 20 percent of them to get vaccinated.
NS: Who do you use in community outreach to build these relationships?
JD: We don't tend to use professional canvassers. We prefer to recruit and train local canvassers specifically from their community. We speak with the community and individuals to find out who the local influencers are – who they trust. We meet with them and ask them to work with us because need them to become our message multipliers within that community.
NS: The COVID-19 vaccine development and approval process has been as novel as the disease itself. We've had the privilege of witnessing science unfold in real time, and along with that, comes a lot of trial and error, as we've seen with the momentary pause in the J&J vaccine and the new cases of myocarditis in pediatric populations. How do you mitigate the derailment of messaging, which have been extensively tested, by rise in these developments?
JD: Well, we know that with these holdouts, and these "wait and see" groups, science and facts won't sway them. The issue is not necessarily about vaccine information, there is a lot of information out there. So, if you're using science to try to convince people who are ideologically entrenched in one belief or another, they might not understand what you're trying to say which will turn them off, or they may come up with counter arguments or "counter-facts" that support their own beliefs. They may also exist in information silos, or information echo chambers, that feed them information which confirm their biases. So no, using science will often not work with hold out groups. Which is why we need to find more innovative methods that focus on more accessible and personal benefits of vaccination.
NS: AM trace has a great vaccine confidence toolkit for community leaders which mentions the importance of decision autonomy for patients in vaccine confidence. With public sentiment headed towards vaccine mandates, to possibly issuing vaccine passports– do you see any challenges with that? How can advocates help reduce weariness around these initiatives in a way that is aligned with an individual's constitutional rights?
JD: As communicators, we should not have any say in developing policy. Whether vaccine mandates are right or wrong, is not an issue I will discuss here. What I will say is that for those employers and institutions who are mandating it, when developing their campaign is that words matter, and the messaging and messengers matter. Employers need to understand that their 'single' workforce is made up of many separate communities each with their own concerns and beliefs. You need to understand the behavioral and emotional context that people exist in order to have the best chances of success. The toolkit you mentioned provides communication planners with an overview of what to consider when developing behavior change campaigns. It works very well in the COVID-19 context.
NCL Health Policy Intern Spencer Cramer contributed to this blog.
https://nclnet.org/wp-content/uploads/2020/10/NissaS_bio.jpg
134
134
Melody Merin
https://nclnet.org/wp-content/uploads/2020/08/NCL-logo.png
Melody Merin
2021-07-22 00:42:58
2021-07-22 14:32:41
Addressing vaccine hesitancy with community-driven messaging