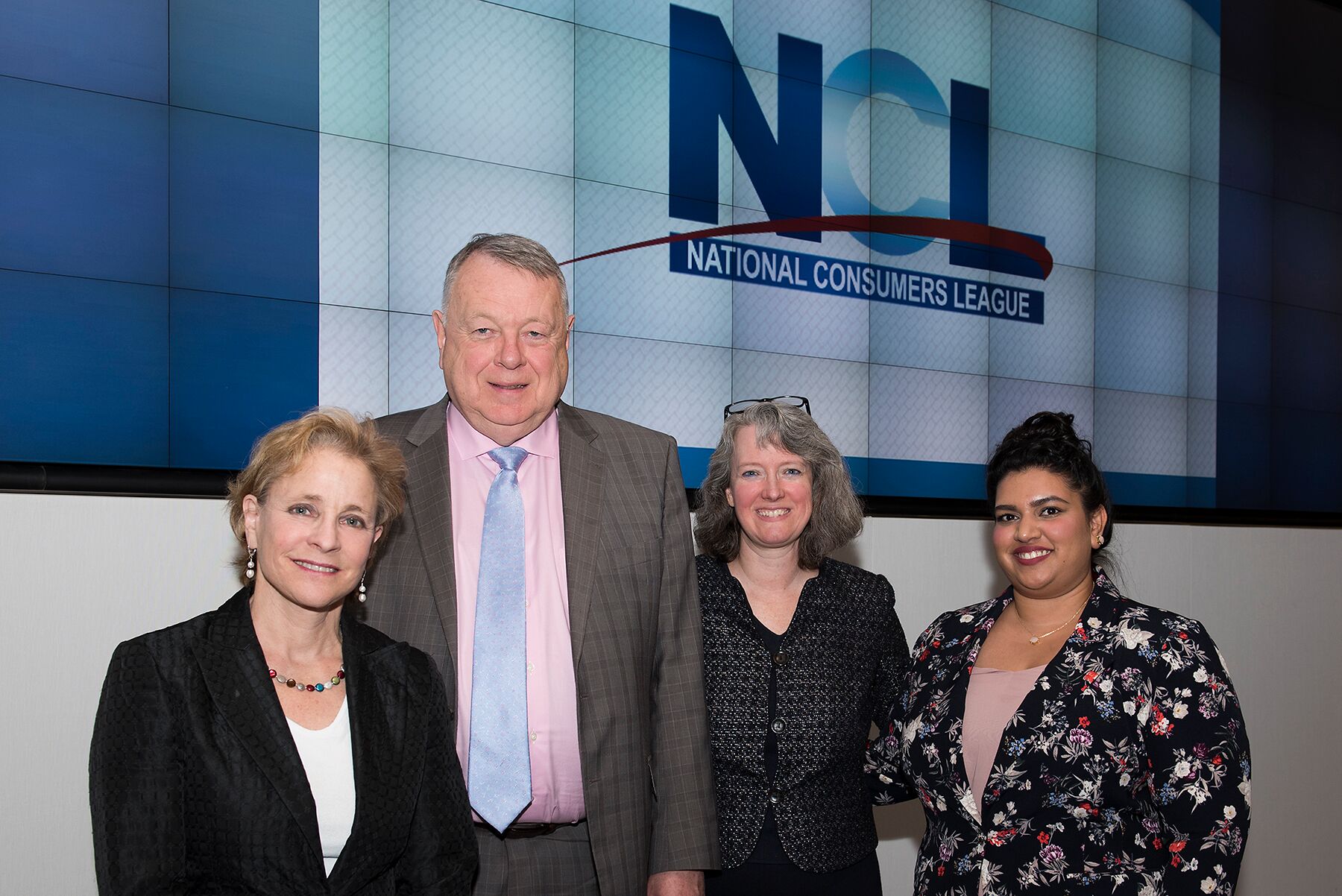 Welcome to the Q4 issue of the Health Advisory Council Newsletter. Below you will find NCL policy updates, a new Q&A with the National Hispanic Medical Association, member updates, and more.
Let's keep the conversation going in 2019!
We hope you will renew your Health Advisory Council Membership for 2019 as NCL continues to convene diverse representatives of the healthcare community to share perspectives and insights, identify common interests, and support NCL's work in health-related consumer education and advocacy. Thanks to your support in 2018, we were able to work and advocate on a variety of important health issues. We look forward to continuing the conversation with you and others in 2019!
 ICYMI: Fourth Annual Winter Membership Meeting featuring Wendell Primus
On December 3, NCL hosted the Fourth Annual Winter Membership Meeting of its Health Advisory Council, featuring Special Guest Speaker Wendell Primus, Ph.D., Senior Health Policy and Budget Advisor to Democratic Leader Nancy Pelosi. Dr. Primus gave an overview of some of the highest priority healthcare issues for the Democratic Party going forward, including the following: prescription drug pricing, lowering healthcare costs, moving towards universal coverage, strengthening the ACA, improving Medicare and Medicaid, and addressing the opioid epidemic. In addition to Dr. Primus' remarks, the meeting also included a report on NCL's health programs and activities, as well as the opportunity for Members to network with each other and share updates on their initiatives and priorities.
Click here for a summary of Dr. Primus' remarks.
 NCL health policy at work 
Counterfeit drugs
NCL continues to have a strong focus on counterfeit drugs. On October 5, NCL's Senior Director of Health Policy Karin Bolte participated in a panel presentation on Ensuring Safe Drugs at Women In Government's Ninth Annual Healthcare Summit. NCL provided an overview of the risks of counterfeit drugs and improperly compounded drugs, and discussed ways in which the states can better protect their residents from unsafe drugs.
At the Alliance for Safe Online Pharmacies (ASOP) Global's November 14th Spotlight on Illegal Online Drug Sales Research Symposium, NCL Executive Director Sally Greenberg presented the results of consumer research and joined with Bayer in releasing a White Paper that explores the risks consumers face when purchasing erectile dysfunction (ED) medicines from illegal online pharmacies and provides policy recommendations for increasing safe access to ED medicines.
NCL is also pleased to announce that Allergan has recently joined Eli Lilly, PhRMA, and Pfizer as supporters of NCL's Counterfeit Drugs Consumer Education Campaign. We anticipate launching the campaign in the fall of 2019, and are still seeking additional campaign partners. Please contact Karin Bolte at karinb@nclnet.org for information about how your organization can join this resource-rich platform to educate consumers on making smart purchasing decisions and improve understanding about how to avoid the scourge of counterfeit drugs.
More NCL health policy updates.
 Member spotlight 
Get to know the National Hispanic Medical Association with a new Q&A.  
 Updates on Member programs

Get the latest updates on programs, policy, and initiatives from our Members.
 NCL staffing news

Nissa Shaffi joined the National Consumers League in October 2018 as its Health Policy and Programs Associate. Nissa brings a diverse perspective in healthcare, where she has worked in a variety of environments, from free clinics to emergency departments. She has worked to improve and implement patient flow protocols to enhance patient experience and safety. Working directly with the patient community afforded Nissa insight into disparities in her community, strengthening her commitment to addressing health inequities on a policy level. Nissa looks forward to continuing her work in securing consumer rights from a health policy and advocacy lens.
 We want to hear from you!
If you have time-sensitive information and updates you'd like to share with the Health Advisory Council in between NCL's quarterly newsletters, please contact Karin Bolte (karinb@nclnet.org) or Nissa Shaffi (nissas@nclnet.org), and we will be happy to forward your materials to the Council membership. We also encourage you to contact us with your ideas and suggestions for Council activities.
————
National Consumers League
Health Advisory Council Newsletter | Q4 2018
Published December 12, 2018
https://nclnet.org/wp-content/uploads/2020/08/NCL-logo.png
0
0
https://nclnet.org/wp-content/uploads/2020/08/NCL-logo.png
2018-12-10 14:15:05
2020-12-23 12:45:21
Health Advisory Council Newsletter | 2018 Q4