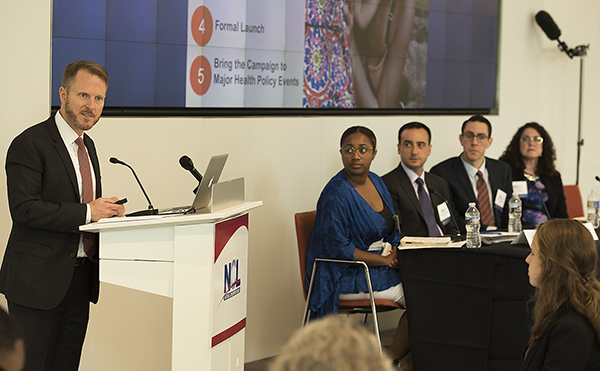 Welcome to the Q3 issue of the Health Advisory Council Newsletter. Below you will find NCL policy updates, a new Q&A with HealthyWomen, member updates, and more.
  Save the date! December 3 
We hope you will join us on December 3 from 4:00 PM – 6:30 PM for NCL's Health Advisory Council Membership Meeting and Holiday Reception at the Pillsbury Conference Center in Washington, DC. Stay tuned for additional details!
 NCL health policy at work 
Counterfeit drugs and importation 
Following up to our panel discussion on counterfeit drugs at our June 27 Health Advisory Council Spring Membership meeting, NCL issued a statement on July 30 expressing concerns about FDA establishing a working group to examine the possibility of importing prescription drugs. Noting that every head of Health and Human Services and the FDA for the last 18 years has refused to certify the safety of drug importation, NCL stated its fear that authorizing importation, even under limited circumstances to address drug shortages, would expose consumers to unknown risks and undermine the security of the U.S. pharmaceutical supply chain. Rather than considering importation, NCL encouraged FDA to pursue other strategies to ensure the availability of multiple FDA-approved and marketed versions of medically necessary drugs.     
NCL is also pleased to announce that Pfizer has recently joined Eli Lilly and PhRMA as supporters of NCL's planned Counterfeit Drugs Consumer Education Campaign. We are still seeking additional campaign partners. For information about how your organization can join this resource-rich platform to educate consumers on making smart purchasing decisions and avoiding the scourge of counterfeit drugs, please contact NCL Director of Development Charlotte Gray at charlotteg@nclnet.org.
Click here for more NCL health policy updates.  
 Member spotlight 
Get to know HealthyWomen with a new Q&A.  
 Updates on Member programs

Get the latest updates on programs, policy, and initiatives from our Members.
 We want to hear from you!
If you have time-sensitive information and updates you'd like to share with the Health Advisory Council in between NCL's quarterly newsletters, please contact Karin Bolte (karinb@nclnet.org) and we will be happy to forward your materials to the Council membership. We also encourage you to contact us with your ideas and suggestions for Council activities.
————
National Consumers League
Health Advisory Council Newsletter | Q3 2018
Published September 27, 2018
https://nclnet.org/wp-content/uploads/2020/08/NCL-logo.png
0
0
https://nclnet.org/wp-content/uploads/2020/08/NCL-logo.png
2018-09-24 16:15:50
2020-12-23 12:45:35
Health Advisory Council Newsletter | 2018 Q3