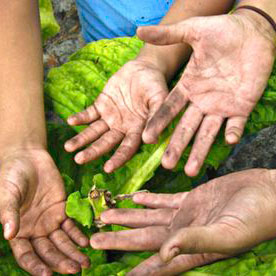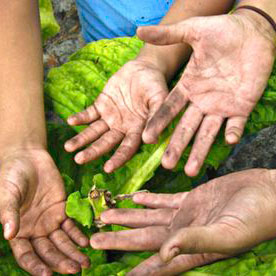 As a nation, we have turned our backs on some of America's most vulnerable workers. Right here, in Kentucky and other tobacco-producing states, children as young as 7 years old are facing Third World conditions. Toiling in the hot sun, these child workers must don black plastic trash bags with holes poked for their head and arms to avoid contact with tobacco leaves. Without it, their skin absorbs nicotine — a lot of nicotine. On a humid day, when tobacco leaves are dripping with dew, a tobacco worker may be exposed to levels of nicotine equivalent to smoking three dozen cigarettes. Nearly a two-pack-a-day habit.
America boasts progressive labor laws, yet hundreds of children working in our fields are subject to unhealthy, unsafe levels of nicotine exposure. These young workers often suffer from "green tobacco sickness," which leads to dizziness, nausea, vomiting and other health complications. We should be ashamed that the laws protecting American child laborers on U.S. tobacco farms are weaker than the laws in many developing nations. In India and Brazil, for example, people younger than 18 are not legally allowed to work in tobacco fields. In America, children can work in tobacco fields at 16, and — in certain situations — children can legally begin working in other types of agriculture at 12 years of age.
As the most powerful country in the world, what kind of example are we setting?
It is time for our collective conscience to be stirred.
No longer can we turn our backs to the reality of girls in Kentucky working long hours in the fields through bouts of nausea and dizziness, making less than minimum wage. No longer should we ignore the image of a young man in North Carolina, thirsty, tired, and ill after working a 12-hour shift in the fields. Many of these young laborers come largely from Latino immigrant families, working with virtually no protections and in constant fear of losing their jobs. These horrid working conditions for children have no place in America.
Americans are rejecting cigarettes in record numbers: Today 18 percent of us smoke, compared with 45 percent in the 1950s. American retailers are discontinuing sales: CVS has sacrificed $2 billion a year in profit by removing tobacco products from its shelves. We are finally making progress in reducing tobacco use, yet we cannot muster the resolve to prevent children from being exposed to nicotine via dangerous, difficult farmwork.
For decades, health and child labor advocates have called for reforms to our agriculture laws to better protect the children working in our fields. In 2012, these advocates — and American child farmworkers — suffered a devastating defeat when the Obama Administration buckled to the powerful agriculture lobby and legislators from tobacco-producing states, withdrawing rules that would have increased protections for child farmworkers and specifically banned tobacco work for children under 16.
Efforts to right this wrong are building momentum.
In May, Human Rights Watch released a jarring report documenting the working conditions of 141 children, ages 7 to 17, who work in U.S. tobacco fields. This led to a rapid response by the advocacy community who, on Aug. 28, sent a letter to the president urging him to take immediate action to protect child tobacco workers. The letter, written by the Child Labor Coalition, a group of more than 30 advocacy organizations that is co-chaired by the National Consumers League, was signed by more than 50 groups.
On Sept. 6, the New York Times profiled child laborers in tobacco fields, exposing the unthinkable conditions under which these children work. And more recently, the Council for Burley Tobacco, an industry group that represents 5,000 tobacco growers, stated publicly: "We do not condone the hiring of anyone under the age of 16 for work in tobacco anywhere in the world."
In the halls of Congress, there too now exists a glimmer of hope for new legislation that would better protect children in tobacco fields. In July, Rep. David Cicilline, D-R.I., introduced legislation that would amend the Fair Labor Standards Act to eliminate child labor on tobacco farms. More recently, Rep. Matt Cartwright, D-Pa., has called for regulatory reform that would strengthen laws that protect these child workers. In the Senate, 16 members, led by Sen. Tom Harkin, D-Iowa, wrote a letter to the largest tobacco corporations asking them to ban work by minors.
We are now at a critical juncture. The tobacco harvest is at its peak, and the children picking this crop face green tobacco sickness every day they work in the fields.
So often we are disapproving of labor abuses on the other side of the world. We must hold ourselves to that same standard, and no longer turn a blind eye to this national disgrace that is happening in our own backyards. We must enact regulations to protect the nation's most vulnerable — our children — from this dangerous work.
This Sally Greenberg op-ed was originally published in the Courier-Journal on Thursday, October 2, 2014.

https://nclnet.org/wp-content/uploads/2020/08/childtobacco.jpg
276
276
Melody Merin
https://nclnet.org/wp-content/uploads/2020/08/NCL-logo.png
Melody Merin
2014-10-03 15:00:00
2020-10-23 11:48:03
NCL: Protect children in tobacco fields – National Consumers League