By NCL Director of Health Policy Jeanette Contreras
As the United States enters the third wave of COVID-19, low-income and minority communities hit hardest by the virus continue to disproportionately lack access to testing. The pandemic is shining a spotlight on the underlying health disparities that have long persisted within these medically underserved communities. Racial and ethnic minorities experience more severe COVID-related illness requiring hospitalization and are at higher risk for death from COVID-19. This is due largely to the prevalence of chronic conditions such as diabetes, asthma, heart disease, and chronic obstructive pulmonary disease (COPD).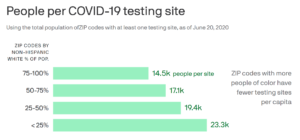 In addition, racial and ethnic minorities make up a significant portion of the low-wage essential workers on farms, in grocery stores and warehouses, and in truck shipping. The essential workforce is composed of  64 percent women and 41.2 percent people of color. This translates to a higher risk of exposure to the virus among minorities because their employment involves interacting with the general public or co-workers in an unsafe environment. According to an August 2020 report from the U.S. Department of Health and Human Services (HHS), Hispanic/Latino persons were the largest demographic living in counties identified as coronavirus hotspots (3.5 million persons), followed by Black/African American persons (2 million).
HHS released a comprehensive strategy to address the lack of access to COVID-19 testing in vulnerable communities, which included expanded testing at federally qualified health centers (FQHCs) and partnerships with retail pharmacies. However, the very social determinants of health that these communities face, such as lack of transportation, child care, and paid sick leave, create significant barriers to getting to a community health clinic or a drive-through testing site. Despite higher demand in minority communities, there are fewer testing sites available to them when compared to access in predominantly white, more affluent areas. Researchers of the COVID Tracking Project found that zip codes with white populations of 75 percent had significantly more testing sites per capita than zip codes that were 75 percent minority.
Though adequate testing is only one of the prongs in confronting the pandemic, followed by contact tracing and isolation, it provides critical data needed to provide resources in the communities hardest hit by this pandemic. The World Health Organization (WHO) recommends conducting around 10–30 tests per confirmed case as a general benchmark–less than 5 percent positivity rate suggests the pandemic is under control. The U.S. currently has a positivity rate of 6 percent, and many states are not testing at a rate needed to contain the spread. Further adding to the disproportionate burden, there is no federal guidance for routine testing of essential workers. To provide adequate testing in low-income and minority communities, we need to address the underlying social determinants of health that place them at greater risk.
https://nclnet.org/wp-content/uploads/2020/09/jet_photo.jpg
471
471
NCL staff
https://nclnet.org/wp-content/uploads/2020/08/NCL-logo.png
NCL staff
2020-11-09 22:31:15
2020-11-10 14:17:02
Low-income essential workers lack adequate COVID-19 testing