September 6, 2022
Media contact: National Consumers League – Katie Brown, katie@nclnet.org, (202) 207-2832 
WASHINGTON, D.C. – The National Consumers League is mourning the death of one of our Trumpeter Awardees, best-selling author of Nickel and Dimed, and hourly worker champion Barbara Ehrenreich.  Ehrenreich accepted NCL's Trumpeter Award in 2008, which was presented because of her writing on behalf of the working poor.  In Nickel and Dimed,  Ehrenreich traveled around the country working minimum wage jobs and writing about how very difficult that was to do; she wrote a compelling narrative about impossibility of making ends meet, even as a single woman, living on jobs like restaurant server and hotel maid. She described in graphic detail the daily grind and many demeaning experiences she encountered.
NCL Executive Director Sally Greenberg speaks to her immense impact on the labor industry, "Barbara Ehrenreich talked the talk, and walked the walk with her long and admirable history of raising awareness about the plight of working Americans.  Nickel and Dimed showed the world just how difficult it is to live on subsistence wages, find housing, health care, buy food, own a car and then have to go to work. She pulled the veil off of the faulty notion that working people can comfortably live off minimum wage jobs. We owe her a debt of gratitude for putting her life on hold to work these jobs and write about the economic reality for working people."
NCL was honored to have Ehrenreich at our annual Trumpeter Dinner in 2008, present her with the Trumpeter Award, and we mourn her passing this past Labor Day holiday.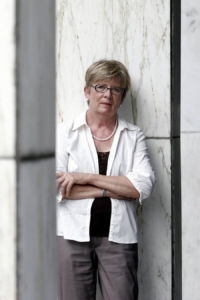 ###
About the National Consumers League (NCL) 
The National Consumers League, founded in 1899, is America's pioneer consumer organization. Our mission is to protect and promote social and economic justice for consumers and workers in the United States and abroad. For more information, visit www.nclnet.org.
https://nclnet.org/wp-content/uploads/2020/08/NCL-logo.png
0
0
Katie Brown
https://nclnet.org/wp-content/uploads/2020/08/NCL-logo.png
Katie Brown
2022-09-06 19:18:28
2022-09-09 13:39:02
The National Consumers League mourns the death of NCL Awardee, labor champion and writer, Barbara Ehrenreich