NCL Health Policy at Work
Consumers for Safe CBD
During the 2021 holiday season, the Consumers for Safe CBD campaign released a PSA reminding consumers to be wary about the unknowns and risks associated with retail CBD products they may give or receive as gifts or encounter at gatherings.
On January 20, The Journal of Studies on Alcohol and Drugs published new research commissioned by the Consumers for Safe CBD campaign. The findings reveal the various tactics cannabidiol (CBD) companies use to thwart the Food and Drug Administration (FDA) review process and assert that their therapeutical claims are backed by science. The study, The Use of Academic Research in Medical-Cannabis Marketing: A Qualitative and Quantitative Review, exposes nearly 1,000 health claims touting CBD's ability to mitigate symptoms or treat mental health, autism, pain, sexual health, AIDS, cancer, COVID-19, and more. This information provides just a snapshot of the current, unregulated marketing tactics being used to mislead the public.
Pharmacy Benefit Managers (PBM)
In our ongoing efforts to raise awareness of the role that Pharmacy Benefit Managers (PBMs) have in driving up prescription drug prices, NCL Executive Director Sally Greenberg spoke with policy expert, Antonio Ciaccia, President of 3Axis Advisors and Chief Executive Officer of 46brooklyn Research, on a recent We Can Do This! podcast to talk about how PBMs impact what consumers pay out-of-pocket for their medicines.
NCL also recently joined the PBM Accountability Project, which brings together leaders and stakeholders across healthcare, labor, business, pharmacy, and consumer patient advocacy to help ensure that patients or our private and public sector health plans aren't overpaying for the prescription medicines we need. We'd like to highlight a new report Understanding the Evolving Business Models and Revenue of Pharmacy Benefit Managers.
NCL has been working to bring awareness to the need for PBMs to count all copayments made by or on behalf of an enrollee toward the enrollee's annual deductible and out-of-pocket limit. NCL recently submitted comments on the Notice of Benefit and Payment Parameters (NBPP) 2023 Proposed Rule expressing our concern that the proposed rule does not include reference to copay accumulator adjustment policies. As a new member of the All Copays Count Coalition, NCL also signed onto the Coalition's comment letter, which further discusses the negative implications that these additional costs have on consumers.
Access to safe drugs and devices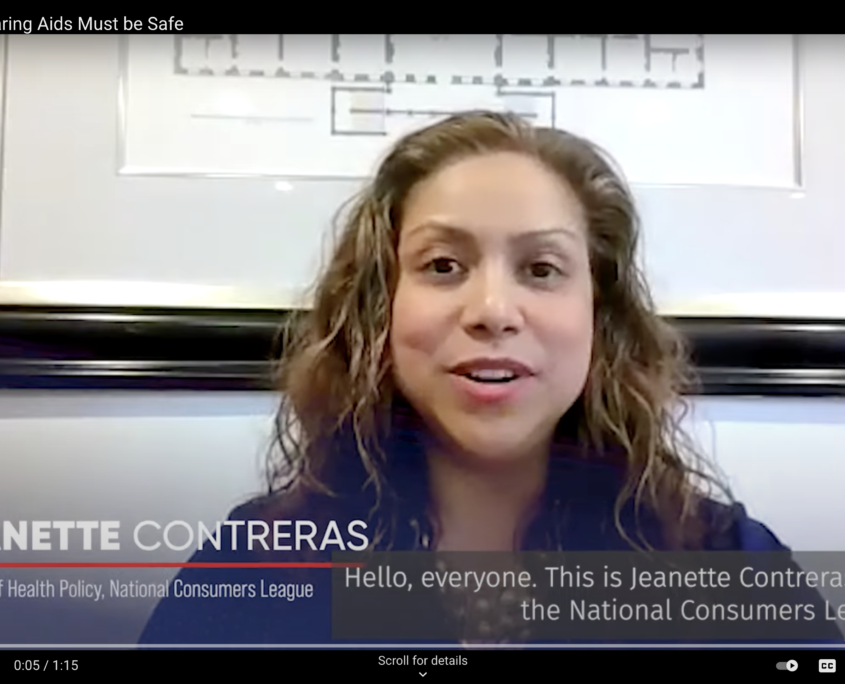 NCL submitted comments to the FDA on a proposed rule to establish a new category of over-the-counter (OTC) hearing aids. NCL stresses the need for safe and effective OTC hearing aids based on the consensus recommendations from leading hearing care professional associations. NCL is calling for increased sound level safety measures to be included for these devices. In an op-ed published in Inside Sources, NCL's Director of Health Policy Jeanette Contreras, shared her own story of her experiences with her father's hearing loss and use of hearing aids. She also recorded a PSA about this issue, which reached more than 850,000 impressions, garnering 100,000+ completed views, and roughly 600 clicks to our website. In addition, Jeanette also wrote a blog on the OTC Hearing Aids issue.
The Domain Reform for Unlawful Drug Sellers (DRUGS) Act is an important bill that NCL has been supporting, in efforts to address the sale of illegal and illegitimate drugs online. NCL's Health Policy Associate, Milena Berhane, wrote a piece at our blog on the importance of holding internet registries accountable for monitoring what is being sold on their domains. The NCL Health Team also shared this legislation with Hill staff, as part of the Council for Affordable Health Coverage (CAHC).
In its advocacy to increase access to FDA-approved medicines and treatments, NCL is supporting a handful of bills aimed at increasing consumer access to biosimilars. NCL is lending its support to The Increasing Access to Biosimilars Act (S. 1427), which would increase Medicare payments for providers who use biosimilars. More specifically, it would create a pilot program by the Centers for Medicaid and Medicare Innovation (CMMI) that would encourage physicians to prescribe less expensive biosimilars for their patients. This legislation is important in addressing the high costs of drugs for patients.
Script Your Future
This year marks the 11th year for NCL's Script Your Future Team Challenge. This year's program launched on January 17, 2022, and students of pharmacy will have until March 28 to conduct their patient outreach and counseling activities. The Team Challenge incorporates the topics of medication adherence, vaccine confidence, and safe drug disposal. There are 24 schools of pharmacy enrolled in this year's challenge, and we have sent them materials including posters, stickers, and medication adherence cards to help them with their outreach activities. The teams will submit evaluation reports, and are competing to win awards in various categories: the national award, rookie award, health disparities award, media outreach award, creative interprofessional team event award, and the technology innovation award. Award winners will be announced in early June.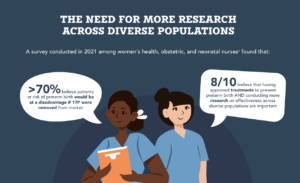 Women's and maternal health 
NCL kicked off the year with a January 2022 meeting of the Preterm Birth Prevention Alliance. The Alliance is focusing on raising awareness of preterm birth's disproportionate impact on women of color as further urgency for representative research and Real-World Evidence on treatment efficacy across populations. NCL created infographics (see image at right) for provider and patient perspectives taken from recent surveys among women and women's health, obstetric and neonatal nurses.
With the looming possibility of Roe v. Wade being overturned and the restrictive abortion laws that have been enacted in Texas and Mississippi, NCL's Executive Director, Sally Greenberg, sat down with Karen Mulhauser – to discuss her personal story, and experience as the first Executive Director of NARAL and the upcoming elections – for the most recent episode of NCL's We Can Do This! podcast. On this same topic, NCL health policy intern Grace Mills wrote a blog highlighting the current legal issues surrounding
women's reproductive freedom.
Vaccine safety and confidence 
NCL has continued its work to increase vaccine safety and confidence. By being a part of Johnson & Johnson's The Costs of Waiting Campaign headed by tv and movie star Kerri Washington, NCL has been able to share vaccine-related resources that aim to educate consumers on the importance of being vaccinated for COVID-19. On February 4, 2022, NCL Health Policy Associate Milena Berhane testified live before the CDC's Advisory Committee on Immunization Practices (ACIP) on the recent approval of the Moderna COVID-19 vaccine for adults 18 years of age and older.
Adult immunization is an important consumer issue, especially during the COVID-19 pandemic. NCL has been working to increase awareness on the need for adult vaccine uptake. On January 12, NCL submitted comments to ACIP regarding the need for expanding access to influenza, hepatitis, and pneumococcal vaccines for adults.
In addition, NCL published an open letter to Spotify calling for the removal of Joe Rogan's anti-vaccine podcast content. NCL firmly believes Rogan's anti-vax statements cause significant harm to consumers, fueling misinformation about vaccines.