December Member Meeting: Summary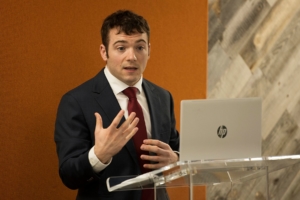 NCL was thrilled to host its December 2021 meeting in person for the first time since the beginning of the COVID-19 pandemic. The meeting was hosted in a large conference space in Washington, DC, and proof of vaccine was required of attendees. Space was limited, but 20 members attended and enjoyed a catered lunch along with a panel discussion focused on the opioid crisis.
The opioid crisis was a major public health issue prior to the pandemic, and has only been further exacerbated by it. Economic stressors, mental health issues, unemployment, and other factors brought on by the pandemic have caused overdose deaths to skyrocket. NCL Director of Health Policy Jeanette Contreras moderated the panel, which featured three health experts: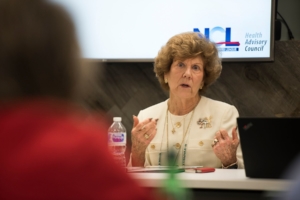 Cheri Lattimer, executive director of the National Transitions of Care Coalition, spoke about the need for innovative models for non-opioid pain management and gave us a glimpse into the patient perspective as they navigate pain management.
Jonah Cunningham, president and CEO of the National Association of County Behavioral Health and Developmental Disability Directors, provided an overview of best practices at the local and county level policies and interventions to address substance misuse and overdose.
Lastly, we heard from Anne Burns, vice president of professional affairs at the American Pharmacists Association, who provided perspective on the role of pharmacists to educate patients on safe opioid use and in caring for patients with medication-centered addiction treatment.
Please feel free to reach out to jeanettec@nclnet.org to request the slides from the presentations.