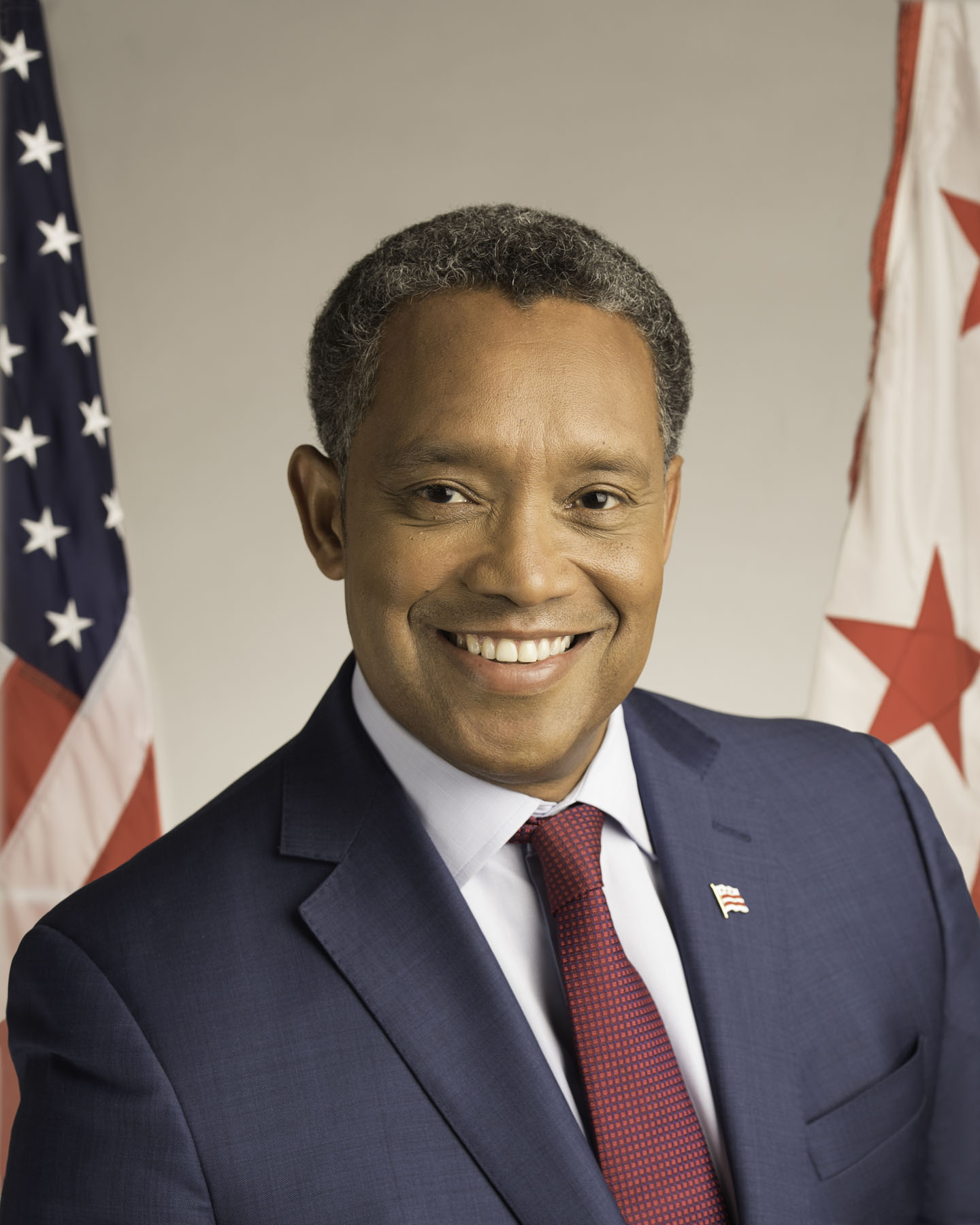 Did you know that Karl A. Racine is the District of Columbia's first elected, independent Attorney General? Now in his second term, Attorney General Racine's mission is to use the law to solve problems for vulnerable District residents. His priorities include consumer protection, preserving affordable housing, employing evidence-based juvenile justice reforms, cracking down on slumlords, and holding unscrupulous employers accountable for wage theft. He is committed to smart-on-crime policies to interrupt violence in the District and address childhood trauma.  
Attorney General Racine also serves as president-elect of the bi-partisan National Association of Attorneys General, and as chair emeritus of the Democratic Attorneys General Association. Before his election, General Racine was the first African American managing partner of a top-100 US law firm, Venable LLP, worked at the DC Public Defender Service, and served as Associate White House Counsel in the Clinton Administration. General Racine earned a B.A. from the University of Pennsylvania and J.D. from the University of Virginia. Born in Haiti, he has lived in the District since he was three.
General Racine is one of several deserving honorees being celebrated at this year's Trumpeter Awards Program, being broadcast online on October 6. Read on to learn more about him.  
NCL: What are your top contributions to consumer advocacy?   
General Racine: Before I took office as the District's first elected Attorney General, the office lacked a practice dedicated to consumer protection. So one of my first actions as AG was to establish an Office of Consumer Protection (OCP) within our Public Advocacy Division. 
We set out to cultivate and build credibility among District community members in order to raise awareness about our consumer protection resources. We needed residents to be our eyes and ears on the ground, alerting us to matters that call for investigation, mediation, or more formal legal action. In particular, we needed to gain the trust of our most vulnerable residents, who disproportionately fall victim to unfair treatment—yet had historically been the least likely to reach out to District government for help. 
Nearly six years later, OCP has grown into a robust operation with an impressive track record. Our 15 attorneys and professional staffers have handled hundreds of investigations and lawsuits, recovering over $8.5 million in restitution and $6 million in debt relief to date. Through our complaint mediation program alone, OAG has resolved over 6,000 matters, generating more than $1 million in savings for District consumers. 
Much of this work revolves around enforcement of the District's Consumer Protection Procedures Act—a broad consumer protection law that we have sought to use in creative ways. Starting in 2016, we began applying it for the first time to housing matters, winning injunctive relief and restitution on behalf of typically low-income residents. We've recovered close to $3.5 million for tenants and the District over housing-related issues, and we've resolved four such lawsuits in the last 12 months alone. 
As Attorney General for the District of Columbia, consumer protection is a top priority. It's my hope that OCP will continue to aggressively resolve disputes on behalf of District consumers and hold bad actors accountable long after I depart the office. 
NCL: What do you see as the biggest challenges facing consumers currently?    
General Racine: Without a doubt, the biggest challenge to consumers today is the economic hardship triggered by the COVID-19 pandemic. All too many Americans have suffered. District residents have lost hours at work, if not employment altogether. They've buried family members and friends, or received staggering hospital bills themselves. Thousands of residents are struggling to put food on the table, and worried that they'll lose the roof over their head. 
All of them need an ally against predatory landlords trying to squeeze tenants out to raise rents, unscrupulous businesses engaging in price gouging, and scammers and fraudsters who 
see grief and desperation as an opportunity for exploitation. We know this, because at OAG, we received over 630 complaints between March and May of this year—nearly three times as many each month as we saw in January and February of this year. And we know that this is far from over. As emergency protections and eviction moratoriums expire, the bills that come due could ensnare millions in the cycle of poverty. 
We can't allow people to drown in this flood of economic hardship. That's what makes our consumer protection work so critical right now—and it's why we need to hear directly from residents who have been treated unfairly 
NCL: How did you get started/involved with consumer advocacy? 
General Racine: When you look at state Attorneys General offices across the country, it's evident that consumer protection is at the heart of their work. It's also one area where state AGs consistently find opportunities to work together through multistate actions. I took office committed to serving the public interest, in part through elevating OAG as a more involved player on the national stage and building out a consumer advocacy practice of our own. 
We have a supremely talented staff, and we do incredible work on behalf of the District all on our own. But by joining forces with other state Attorneys General in multistate coalitions, our potential to take on bigger cases for our residents grows. And of course, our team doesn't just collaborate with other state AG offices. They work closely with other sections and divisions throughout our office, including those involved in protecting tenants and workers, civil rights, and seniors and vulnerable residents. And they're interacting with District residents, building trust by helping consumers resolve problems and educating them about their rights and protections under District law. As a result, we now have one of the most active and effective consumer protection shops across state AG office  
Join us on October 6, 2020,
for 
NC
L's
 annual Trumpeter Awards Program,
where we will 
honor 
General Racine and other
 exceptional leaders with distinguished records advocating for consumer and worker rights.
Support NCL with a Trumpeter sponsorship today and help protect, educate, and advocate for tomorrow's consumers and workers. Your generosity allows NCL to continue to take a stand for the everyday consumer.
For more information about sponsorship, contact NCL's Molly Harman at mollyh@nclnet.org.
Join the conversation about Trumpeter on social media at #Trumpeter20
https://nclnet.org/wp-content/uploads/2020/08/NCL-logo.png
0
0
https://nclnet.org/wp-content/uploads/2020/08/NCL-logo.png
2020-08-20 09:14:04
2020-12-23 12:43:05
Meet 2020 Florence Kelley Honoree Attorney General Karl Racine