At a eulogy in New York, Pharis Harvey, the founder of the International Labor Rights Fund and a pioneer in modern child labor advocacy, called him "a loose cannon for justice."
"The heat of his moral imperative was more than he could contain," said Sam Morris, who worked with Robin on multiple films.
We lost Robin in early November, when he passed away unexpectedly. It seemed impossible that this firebrand could be gone. As I attended his memorial service in New York, I don't think I was alone in expecting him to walk in the door and say, "The joke's on you…the rumors of my demise have been greatly exaggerated."
Robin was only 57, but everyone thought he was younger. He had piercing blue eyes that were constantly smiling or glowering. Robin was often outraged. How could you not be? A quarter of a billion children were toiling in the most harrowing of circumstances and no one seemed to care. Millions were enslaved. Millions were trapped in bonded labor.
Robin's outrage was often tempered with a mischievous delight in making people laugh.  He was a jokester who loved making prank phone calls. He would call and, in an exaggerated, exotic accent—with mock-outrage—accuse us of using child labor or failing to pay our taxes.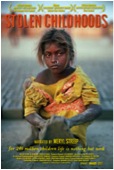 I first met Robin over a dozen years ago when I learned that he and his filmmaking partner Len Morris were working on the first feature length film about child labor, Stolen Childhoods. At the time, 250 million children were trapped in child labor, but the child labor advocacy community was having a hard time getting people to care about them.  We needed to put a face on the problem and Stolen Childhoods promised to do just that. Robin and Len roamed around the globe filming shocking scenes of child labor—often at great peril. They fled for their lives on more than one occasion.
Their lens captured young boys on fishing platforms, young girls working as domestic servants or forced into prostitution. They filmed children laboring in stone quarries, brick kilns, and coffee plantations. They showed a range of child labor and conditions that horrified the public.
When we met, Robin and Len were interested in adding to the nearly completed Stolen Childhoods a segment about child farmworkers in the US—a vestige of child labor that still haunts America today.
At the time, I worked for the Association of Farmworker Opportunity Programs, a CLC member that had been trying to highlight this issue for years. Through our contacts with local farmworker groups in Texas, we helped Robin and Len locate working children hidden on back country roads in the vast expanse of Texas.
I accompanied Robin and Len on the shoot for a few days, and watched them film dozens of children working with razor-sharp scissors, harvesting onions for about a penny a pound. Temperatures were in the high 90s and sometimes went over 100. One girl, 10, was so sick she could barely talk. One small boy, also 10, worked barefoot at a pace that most men could not match. The work was back-breaking and many families had three generations toiling in the fields. It wasn't difficult to see what the future held for many children.
Robin and Len worked tirelessly to get their story. Robin stood in the fields with a video camera and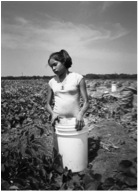 several still cameras draped over his shoulders and on his belt, going back and forth, shooting stills in color and black and white. He was so covered in cameras, he almost didn't look human.
Field shots were followed by visits to some of the homes of the workers 90 miles away. Robin would put in a 10 hour day and then once back at the hotel, chain smoke a few cigarettes and go for a long run. I didn't know how he did it. "He had no body clock," said Pharis Harvey. Eventually, "he would just collapse."
Other films followed. In 2010, he and Dutch journalist Miki Mastrati made The Dark Side of Chocolate, unveiling the hidden child labor and trafficking in West Africa that helps produce the chocolate that we all love. In 2011, he directed The Harvest/La Cosecha, a feature length film that explored the physical and emotional toll on three child farmworkers.
The NGO community heralded these films, organizing public education and advocacy around each of them. Robin pushed tirelessly for solutions to the problems he exposed, regularly participating in our Child Labor Coalition strategy sessions long after his films were made.
Occasionally, he would get groups to pay for his brilliant photography, but when they could not find the budget for them, he shared them for free. He knew we needed the ammunition for the war we were waging. "He went everywhere and shot everything," noted Harvey.
In the years since Robin and Len started filming Stolen Childhoods, the number of child laborers in the world has dropped by 80 million. I feel certain that Robin Romano played a crucial role in helping bring that decrease about. Robin has been such an integral part of our advocacy it is hard to imagine our work moving forward without him, but we know that he would have demanded that we continue.
If you would like to join the Child Labor Coalition and its members  for our "Remembering Robin" memorial event this Thursday, February 13, in Washington, DC, please RSVP  here.
https://nclnet.org/wp-content/uploads/2020/08/maki.jpg
92
92
Melody Merin
https://nclnet.org/wp-content/uploads/2020/08/NCL-logo.png
Melody Merin
2014-02-12 12:43:00
2020-08-20 14:56:39
We remember Robin Romano – National Consumers League