With the partial government shutdown about to enter Day 27, there is no shortage of stories about the shutdown's impact on everyday citizens. With the shutdown hurting millions of Americans and costing the economy billions of dollars, one group is undoubtedly rooting for the shutdown to go on as long as possible: scammers.
That is because one of the agencies currently shut down is the Federal Trade Commission (FTC), which is one of the government's biggest cops on the beat against scam artists. In 2017, almost a quarter million consumers reported to the FTC that they lost nearly $1 billion to scammers. While those are certainly big numbers, we know that fraud is a historically underreported crime, so those losses are likely only the tip of the iceberg.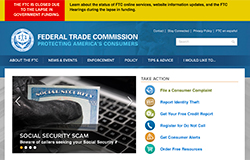 The FTC relies greatly on consumer complaints to drive its investigations. In 2017, the Commission collected 2.7 million such complaints, giving it the evidence it needed to take down scams of all kinds, from phony debt collectors, to identity thieves, to imposter scams to dozens of other types of cons. Unfortunately, for the past 27 days, the agency has been unable to accept complaints from consumers. That means that for the past 3+ weeks, scammers have been free to defraud Americans without having to worry about getting caught by the FTC. 
Consumers can file their complaints with other organizations, though none of them have the resources or investigative reach of the FTC. For example, state attorneys general typically take fraud complaints, but their investigative reach is often constrained by limited resources and they may lack expertise on the types of fraud that the FTC has investigated for decades. There are also a number of great nonprofit organizations, including the Identity Theft Resource Center, AARP's Fraud Watch, and NCL's own Fraud.org that collect complaints and provide counseling to fraud victims. For Fraud.org's reports, we also typically amplify our impact by sharing our complaints with the FTC, which can and does investigate. With the FTC shut down, that information isn't currently happening. 
With the FTC absent, scam artists' jobs are made much easier. The plight of hundreds of thousands of furloughed federal workers – many living paycheck–to–paycheck – is rightfully getting plenty of attention. However, Congress, the White House, and the media should not ignore the millions of consumers who are being put at greater risk of fraud while the government remains shuttered. 
https://nclnet.org/wp-content/uploads/2020/08/breyault.jpg
92
92
Melody Merin
https://nclnet.org/wp-content/uploads/2020/08/NCL-logo.png
Melody Merin
2019-01-16 19:04:00
2020-08-20 14:15:07
Federal government shutdown a boon to scammers