By Ali Schklair, Linda Golodner Food Safety & Nutrition Fellow 
Extra virgin olive oil (EVOO) is a fairly recent addition to the American kitchen. Due to the popularity of the Mediterranean diet and the promotion of "healthy fats," many consumers are now opting for EVOO as their primary cooking oil. Over the past few decades, olive oil producers worldwide have scrambled to keep up with increasing consumer demand. Unfortunately, the majority of "extra virgin olive oil" available to consumers is not truly EVOO.
Results of a 2010 UC Davis EVOO study found that approximately 69 percent of imported oil labeled "extra virgin olive oil" is mislabeled. An emphasis on imported oils is important for two reasons: one, imported extra virgin olive oil dominates 97 percent of the EVOO market in the United States; two, there are no federally mandated quality standards for imported products in the United States. As a result, we are left with an unregulated EVOO market that is inundated with low quality olive oil.
In this industry, fraud starts in the fields. This fall, NCL's Linda Golodner Food Safety & Nutrition Fellow Ali Schklair visited Corto Olive, a family-run olive oil company based in Lodi, California. There was something distinctly different about the olive trees at Corto. Instead of large and looming, these trees were trim, contained, and steadied by lean trunks. Schklair later learned that the shape and positioning of these trees is the reason Corto is able produce such high quality oil.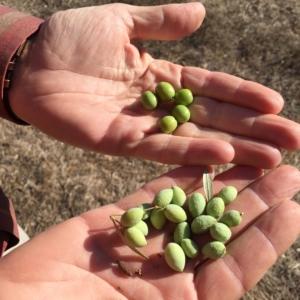 Traditionally, olives were picked by hand, making the harvesting process tedious and time consuming. As imported EVOO gained popularity in the U.S., many of the companies abroad did not have enough labor to satisfy demand. Without time to inspect each olive, oil producers started waiting for olives to rot and fall to the ground. The fruit (and the dirt, sticks, and leaves along with it) could then be easily raked up and sent to the mill. To mask the rancidity, oil is often refined, mixed with small amounts of good oil, and even altered in color and consistency. Rotting fruit, refining, and the mixing of oils mean that this oil is no longer high quality EVOO. Still, the manipulated product is shipped off to the U.S., too often falsely stamped with the "extra virgin olive oil" label.
In 1990, farmers in Spain developed an alternative harvesting system that allows olives to be picked at peak freshness. The "super high-density method" has olive trees planted and pruned close together so a special harvesting machine-not able to fit around traditional trees-can easily fit between rows.  The best producers in the U.S., like Corto, have adopted this method in order to provide higher quality oil than their international counterparts.
Once olives are harvested, they are brought to the mill for sorting and washing. Unlike most mills, Corto uses a special sorting machine called the "optical sorter" to remove only undesirable materials from the batch. This technology is used in other aspects of food processing, but Corto is the first to use it for olive oil. Corto's use of the high-density method and an optical sorter is unique and ensures their oil is fresh and authentically extra virgin.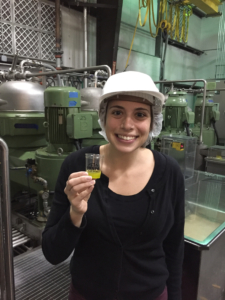 Extra virgin olive oil has gained popularity in the U.S. because of its many health benefits, which are real and important. But with such high instances of adulteration, it's safe to assume that most consumers aren't really getting what they pay for. So, how can consumers know if the oil they buy is truly extra virgin? Unfortunately, it's hard to know for certain because most of our palates are not trained to recognize the real thing.
Throughout Europe, especially in the Mediterranean, olive oil is used as commonly as salt and pepper in the U.S. Understandably, taste is very important. In the U.S., products labeled "extra virgin olive oil" are mostly used in cooking, making it easier for lower quality oil to fly under the radar. Tom Mueller, author of the book Extra Virginity, offers information and tips on his website to help consumers make more informed choices. Using resources like this, and by putting a higher value on taste, consumers can learn to shop for higher quality oil and actually reap the benefits they seek. There are a number of honest, high quality EVOO brands on the market, including Corto. Please see NCL's EVOO testing results here.
https://nclnet.org/wp-content/uploads/2020/08/corto.jpg
92
92
Melody Merin
https://nclnet.org/wp-content/uploads/2020/08/NCL-logo.png
Melody Merin
2015-12-10 15:39:00
2021-06-23 13:09:01
NCL's visit to Corto Olive: An examination of true EVOO production – National Consumers League