Please join us in welcoming the Health Advisory Council's newest members:  
Infusion Access Foundation (IAF), The League of United Latin American Citizens (LULAC), National Association of County Behavioral Health and Developmental Disability Directors (NACBHDD), and National Association of Hispanic Nurses (NAHN)
Save the Date: Health Advisory Council Meeting – June 10 
The next HAC meeting will take place in Washington, DC (in person) on June 10th from 12:00-2:00pm. This meeting will feature an update on NCL's health policy work and a panel discussion on the potential for Telehealth to improve health equity in women's health care. Panelists will include speakers from the National Partnership for Women & Families, Favor (formerly The Pill Club), and 2020 Mom.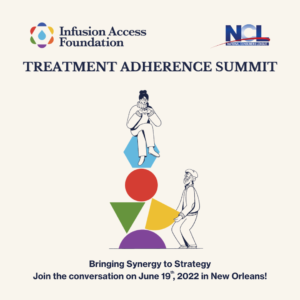 Treatment Adherence Summit in NOLA: Join Us! 
Join NCL and the Infusion Access Foundation (IAF) for a Treatment Adherence Summit on Sunday, June 19 in New Orleans, LA. NCL is presenting a panel with the IAF to discuss the role of non-adherence in driving disparate health outcomes for patients managing chronic conditions and infusion treatment. The discussion will focus on sharing strategies and public health interventions to improve medication and treatment adherence in diverse communities.  
 Let us know if you have community partners based in New Orleans who would be interested in attending the summit. We would be happy to send them a personal invitation. Click here for more information and to register!  
Please feel free to reach out to jeanettec@nclnet.org to request the slides from the presentations.