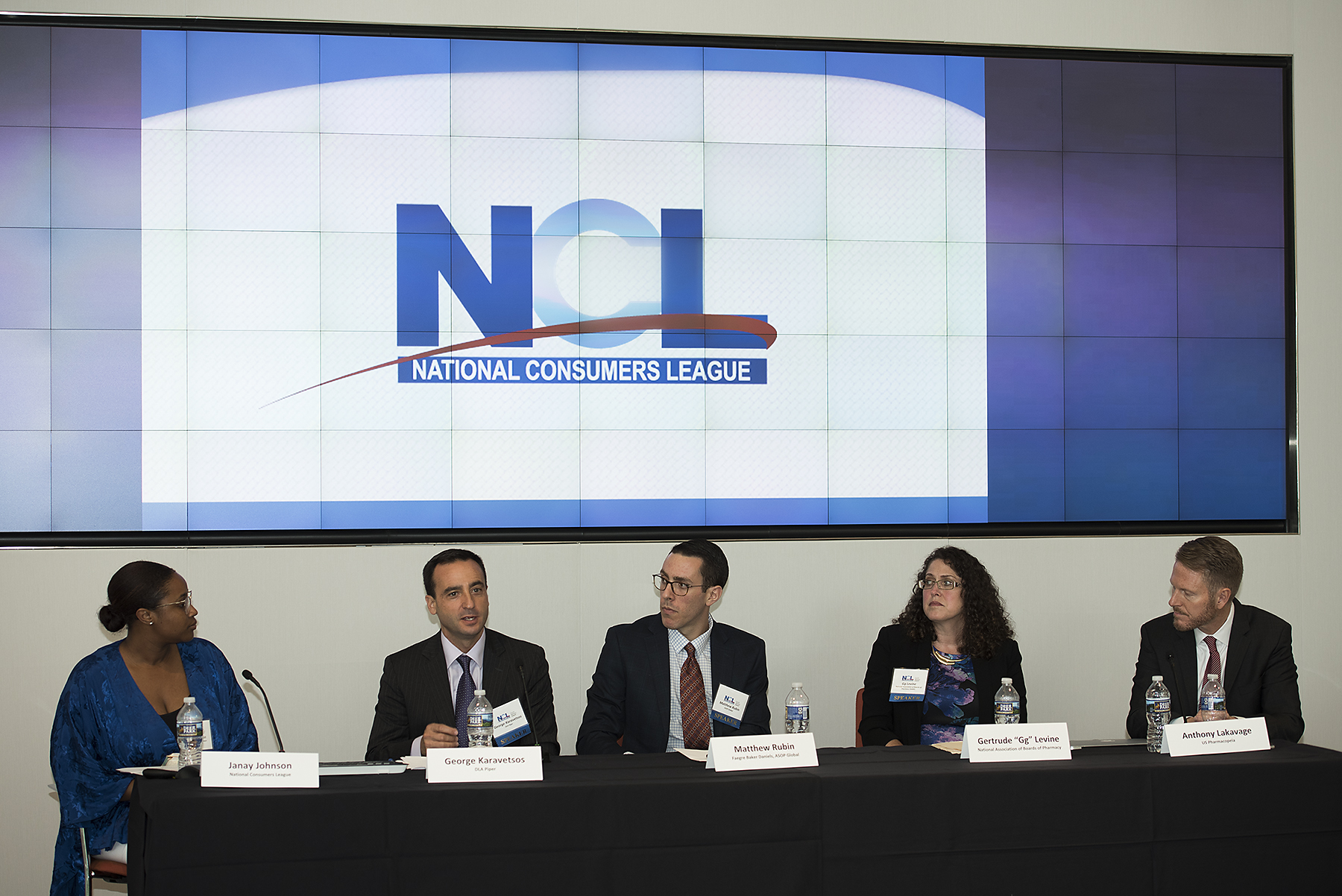 Welcome to the Q2 issue of the Health Advisory Council Newsletter. Below you will find NCL policy updates, a new Q&A with the American Medical Women's Association, member updates, and more.
ICYMI: Counterfeit drugs panel discussion
On June 27, NCL hosted the Fourth Annual Spring Membership Meeting of its Health Advisory Council, featuring a panel discussion on counterfeit and substandard drugs. Panelists included George M. Karavetsos, Partner at DLA Piper and former Director of FDA's Office of Criminal Investigations; Matthew Rubin, Advisor, Faegre Baker Daniels Consulting and Advisor, Alliance for Safe Online Pharmacies (ASOP Global); Gertrude "Gg" Levine, .Pharmacy Registry Operations Manager, National Association of Boards of Pharmacy; and Anthony Lakavage, J.D., Senior Vice President, Global External Affairs, USP. Janay Johnson, NCL's Health Policy Manager, served as moderator.
Topics of discussion included the increasing threat of counterfeit drugs and the importance of consumer education; ASOP Global's work to combat illegal online pharmacies; NABP's .Pharmacy Verified Websites Program; and USP's work to ensure quality medicines and its new Medicines We Can Trust Campaign. In addition to the panel discussion, the meeting also included a report on NCL's health programs and activities, as well as the opportunity for Members to network with each other and share updates on their initiatives and priorities.
For meeting minutes, as well as photos, slides, and a video of the panel, click here.
 NCL health policy at work 
Script Your Future Medication Adherence Team Challenge
In May, NCL announced the winners of the 7th annual Medication Adherence Team Challenge, a competition that encourages health profession students and faculty across the nation to develop creative ideas, events, and initiatives to raise public awareness about the importance of medication adherence.
This year, the Script Your Future National Challenge Awards went to the University of Charleston School of Pharmacy and the University of the Sciences Philadelphia College of Pharmacy. The three focused awards were won by Lake Erie College of Osteopathic Medicine (LECOM) (health disparities), Touro University California College of Pharmacy (media outreach), and the University of Pittsburgh School of Pharmacy (creative inter-professional team event). NCL also honored Pacific University School of Pharmacy with the Rookie Award. 
Hundreds of future healthcare professionals from 73 participating educational institutions held more than 350 events in 17 states, counseled more than 14,000 patients, and reached 1.5 million consumers nationwide. Since the Challenge began in 2011, more than 15,000 future healthcare professionals have directly counseled nearly 65,000 patients and reached more than 24.5 million consumers. 
Click here for more NCL health policy updates.  
 Member spotlight 
Get to know the American Medical Women's Association with a new Q&A.  
 Updates on Member programs

Get the latest updates on programs, policy, and initiatives from our Members, including AARP, FDA, HealthyWomen, NPWH, and many more. 
 NCL staffing news
As we announced at the June 27 Health Advisory Council meeting, NCL's Health Policy Manager, Janay Johnson, is moving on to the American Heart Association after nearly 2 ½ years at NCL. Janay's last day will be July 13. NCL expresses its sincere appreciation to Janay for all of her hard work and valuable contributions she has made to NCL's health policy and consumer education work. We know that you will join us in wishing Janay the best in her new position! Please contact Karin Bolte at karinb@nclnet.org if you have any candidates in mind for Janay's position.
 We want to hear from you!
If you have time-sensitive information and updates you'd like to share with the Health Advisory Council in between NCL's quarterly newsletters, please contact Karin Bolte (karinb@nclnet.org) and we will be happy to forward your materials to the Council membership. We also encourage you to contact us with your ideas and suggestions for Council activities.
————
National Consumers League
Health Advisory Council Newsletter | Q2 2018
Published July 10, 2018
https://nclnet.org/wp-content/uploads/2020/08/NCL-logo.png
0
0
https://nclnet.org/wp-content/uploads/2020/08/NCL-logo.png
2018-07-02 15:11:48
2020-12-23 12:46:48
Health Advisory Council Newsletter | 2018 Q2