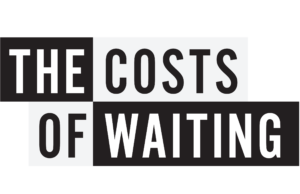 Since early 2020, COVID-19 has forced us to keep our distance, and concerns about vaccination status are driving us further apart. Despite the continued risks of COVID-19, we know that 32.3 percent of Americans have delayed vaccination, each with different reasons for choosing not to take the step yet.
As we approach the holiday season, we recognize the importance of being able to gather safely. It's time to bring an end to this pandemic by talking openly and honestly about vaccinating against COVID-19.
We are proud to announce the launch of a campaign designed to help vaccinated individuals do just that. The National Consumers League has teamed up with Johnson & Johnson and Janssen, actress and advocate Kerry Washington, and numerous organizations, including Blue Star Families to launch The Costs Of Waiting—a public service campaign intended to build confidence in the benefits of vaccination.
The campaign delivers clear information from trusted sources, while providing vaccinated individuals with the guidance they need to hold productive, empathetic conversations with their loved ones about the choice to get vaccinated. We encourage you to learn more at the campaign website www.TheCostsOfWaiting.com.
NCL leadership on vaccines over history
Guided by the renowned social reformer Florence Kelley, the National Consumers League has long championed vaccines as lifesaving medical interventions. General Secretary Kelley's support of vaccinations played a key part in mitigating a critical smallpox outbreak towards the end of the 19th century, and her stalwart advocacy for immunizations has informed NCL's bedrock principles for increased access and vaccine confidence.
For more than 120 years, NCL has been a trusted source for information for consumers. The following resources provide information about the benefits and safety of the COVID-19 vaccine, answers to frequently asked questions (FAQs), vaccination scheduling, and more.
COVID-19 vaccine resources
Centers for Disease Control and Prevention (CDC)
The Centers for Disease Control and Prevention makes the recommendations for immunization schedules across lifespan. They are a trusted source for information about the different COVID-19 vaccines and how they work.
Myths and Facts About COVID-19 Vaccines (Also available in Chinese, Korean, Spanish, and Vietnamese)
Food and Drug Administration (FDA)
The Food and Drug Administration is charged with ensuring the safety and efficacy of all vaccines administered in the U.S. The career scientific staff at the FDA are world-renowned for their rigorous review of evidence before issuing their gold-standard approval.
COVID-19 Frequently Asked Questions (FAQs)
Learn More About the COVID-19 Vaccine from the FDA
Vaccinating Your Children for COVID-19
All children 5 years of age and older should receive the COVID-19 vaccine.
How and where to get the COVID-19 vaccine
Ways to find a location near you:
Go to Vaccines.gov
Text your ZIP code to 438829,
Call 1-800-232-0233
NCL's work on vaccine education and advocacy
NCL has worked tirelessly to ensure the consumer voice is heard throughout the COVID-19 vaccine development and approval process. NCL supports increased consumer access to all FDA-approved vaccines. Learn more about our recent advocacy and education.
NCL stands behind CDC COVID-19 booster recommendations – September 29, 2021
NCL applauds decision to ban vaccine misinformation from YouTube – September 29, 2021
NCL supports employer COVID-19 vaccine mandates – August 18, 2021
NCL comments on pediatric COVID-19 vaccines before CDC's Advisory Committee on Immunization Practices – June 24, 2021 
NCL testimony before FDA's Vaccines and Related Biological Products Advisory Committee – June 10, 2021 
NCL testimony at CDC emergency meeting on J&J vaccine safety – April 23, 2021
NCL testimony before FDA on Janssen Biotech COVID-19 vaccine – March 1, 2021
What the new COVID-19 variants mean for consumers – February 12, 2021
Ensuring completion of series for the COVID-19 vaccine – January 7, 2021
A few out-of-the-box consumer tips for staying safe from coronavirus – April 24, 2020
Special message from NCL's Fraud.org about coronavirus scams – National Consumers League – March 25, 2020
Understanding the rapidly emerging disease, Coronavirus – February 27, 2020